Videos/movies
IllumiNations: Reflections of Earth, Epcot, Walt Disney World, (HD) - Winter‬‏
J.K. Rowling and Trio's Speeches‬‏
evolution_by_maisou-d40vcax
MC Hammer Vader Busts a Move Video
‪Remind me again why music shouldn't be in public school?‬‏
‪APPLE STORE DANCE TO CHECK IT OUT!!‬‏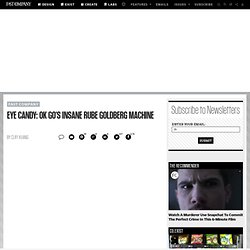 You'll just have to watch the new OK Go to appreciate its geeky awesomeness. But a little bit of background: The video, directed by James Frost, began with a sketch dreamed up the band. Then, they put it to Mindshare/Synnlabs, a collective of engineers and geeks that consults on ambitious art projects, to pull it off: Of course, the OK Go video isn't the first mind-blowing machine of this sort. Most famously, there was this commercial for Honda, by Wieden & Kennedy:
New York City R/C Plane Tour on Devour.com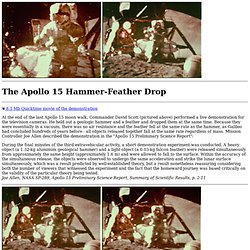 Apollo 15 Hammer-Feather Drop
8.3 Mb Quicktime movie of the demonstration At the end of the last Apollo 15 moon walk, Commander David Scott (pictured above) performed a live demonstration for the television cameras. He held out a geologic hammer and a feather and dropped them at the same time. Because they were essentially in a vacuum, there was no air resistance and the feather fell at the same rate as the hammer, as Galileo had concluded hundreds of years before - all objects released together fall at the same rate regardless of mass.
ME AT NINE, PERFORMING TO MADONNA IN SUMMER '91! on Vimeo
The 100 Greatest Movie Insults of All Time | Ensomusique
Essential Movies