Vegetables
How to Make a Simple Curry "Anything" : Joe Grossberg. In the course of cooking Indian food, I've found that many dishes have a great number of similarities.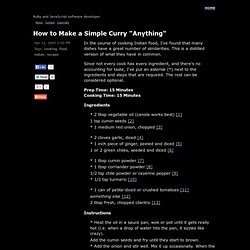 This is a distilled version of what they have in common. Since not every cook has every ingredient, and there's no accounting for taste, I've put an asterisk (*) next to the ingredients and steps that are required. The rest can be considered optional. How To Make Creamy Ice Cream with Just One Ingredient! | Apartment Therapy The Kitchn. Yes, that's right; you heard us.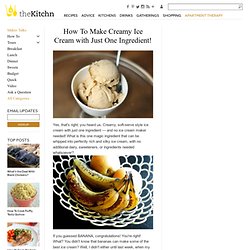 Creamy, soft-serve style ice cream with just one ingredient — and no ice cream maker needed! What is this one magic ingredient that can be whipped into perfectly rich and silky ice cream, with no additional dairy, sweeteners, or ingredients needed whatsoever? If you guessed BANANA, congratulations! You're right! What? Don't Make Dad Settle for Boring Potatoes: Hasselback Potatoes. Dad's going to remember exactly why he loves steak and potatoes when you serve him these.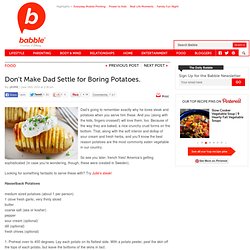 And you (along with the kids, fingers crossed!) Will love them, too. Because of the way they are baked, a nice crunchy crust forms on the bottom. That, along with the soft interior and dollop of sour cream and fresh herbs, and you'll know the best reason potatoes are the most commonly eaten vegetable in our country. So see you later, french fries! Recipe for Creamy Bacon Tomato and Avocado Pasta Salad at Life.
Folks today I would like to share with you what is sure to be my go-to pasta salad this summer for all the pot-lucks, BBQs and patio dinners that are sure to come up.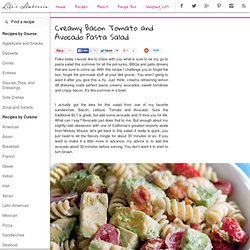 With this recipe I challenge you to forget the box; forget the pre-made stuff at your deli grocer. You aren't going to want it after you give this a try. Just think, creamy refreshing lemon dill dressing coats perfect pasta, creamy avocados, sweet tomatoes and crispy bacon. It's like summer in a bowl. I actually got the idea for this salad from one of my favorite sandwiches: Bacon, Lettuce, Tomato and Avocado.
---