Potatoes
Yes, You Can Be a Garlic Goddess. Photos: Jaden Hair A friend recently bought a jar of already-roasted garlic, thinking it would be great warmed and stirred into mashed potatoes.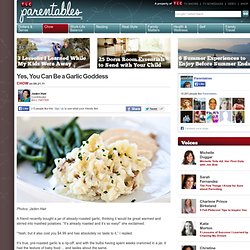 "It's already roasted and it's so easy!" She exclaimed. Ultimate Best Oven Baked French Fries !! Spiced Tomato Gratin Recipe. We have family visiting from out of town this week.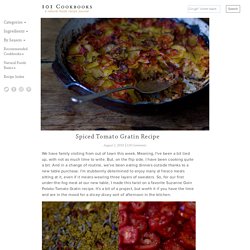 Meaning, I've been a bit tied up, with not as much time to write. But, on the flip side, I have been cooking quite a bit. Garlicky Baked Fries. I'm never going to make garlic potato fries any other way.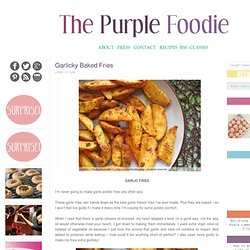 These garlic fries, win hands down as the best garlic french fries I've ever made. Plus they are baked – so I won't feel too guilty if I make it every time I'm craving for some potato comfort. When I read that there is garlic infused oil involved, my heart skipped a beat (in a good way, not the way oil would otherwise treat your heart). I got down to making them immediately. Crispy Potato Roast Recipe.
Hey Guys!
So…it's still really hot out…wtf! I'm totally ready for fall…forget this, "I just don't want summer to end" BS…I'm OVER IT! Okay, I apologize for being aggressive right there, but man does this weather make me grumpy. There are a few things that get my mood up during weather like this: 1) My Dog (always) 2) Frequent Fro-Yo and Hawaiian Ice trips with the boyfriend 3) This Roasted Onion Dip. French Fries: The No-Guilt Version | Curvy Girl Guide. There's nothing like a french fried potato.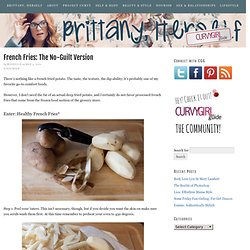 The taste, the texture, the dip-ability; it's probably one of my favorite go-to comfort foods. However, I don't need the fat of an actual deep fried potato, and I certainly do not favor processed french fries that come from the frozen food section of the grocery store. Enter: Healthy French Fries* Step 1: Peel your 'taters. Parmesan Roasted Potatoes. Ok fine.
I'm officially ready to make the transition to fall. And I thought, what better way to do it than with my all time favorite Parmesan Roasted Potatoes! These are like candy. 100% addictive. Once you stop, you just can't stop. Hasselback Sweet Potatoes: A Surprsing Sweet Potato Recipe. Though they're often relegated to sweet, buttery casseroles, sweet potatoes can be a healthy side dish.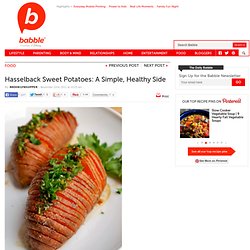 Packed with nutrients like beta carotene, vitamins A and C, manganese, fiber, and antioxidants, they're a nutritional powerhouse. Sweet potatoes are good for you — so dig in! Homemade French Fries. Why there is no need to purchase pre-made fries in the freezer aisle – in pictures and rhyme: One potato (find a potato) Two potato (cut the ends off) Three potato (cut slices)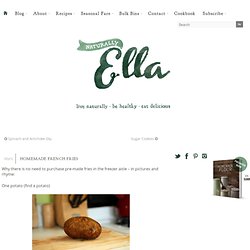 Salt and Vinegar Potatoes with Rosemary. There are a million versions of these smashed potatoes all over the place.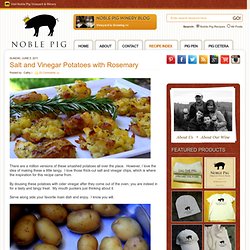 However, I love the idea of making these a little tangy. I love those thick-cut salt and vinegar chips, which is where the inspiration for this recipe came from.
---