German philosophers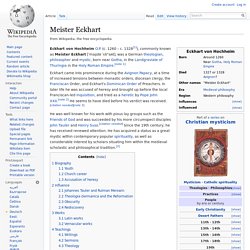 Eckhart came into prominence during the Avignon Papacy, at a time of increased tensions between the Franciscan Order and Eckhart's Dominican Order of Preachers. In later life he was accused of heresy and brought up before the local Franciscan-led Inquisition, and tried as a heretic by Pope John XXII.[note 2] He probably died before his verdict was received.[citation needed][note 3]
Meister Eckhart
Meister Eckhart
Eckhart came into prominence during the Avignon Papacy, at a time of increased tensions between the Franciscan Order and Eckhart's Dominican Order of Preachers. In later life he was accused of heresy and brought up before the local Franciscan-led Inquisition, and tried as a heretic by Pope John XXII.[note 2] He probably died before his verdict was received.[citation needed][note 3] He was well known for his work with pious lay groups such as the Friends of God and was succeeded by his more circumspect disciples John Tauler and Henry Suso.[citation needed] Since the 19th century, he has received renewed attention.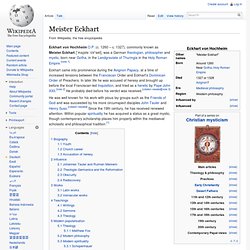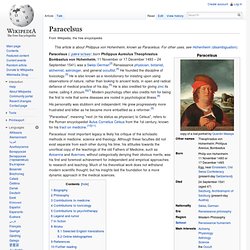 Paracelsus (/ˌpærəˈsɛlsəs/; born Philippus Aureolus Theophrastus Bombastus von Hohenheim, 11 November or 17 December 1493 – 24 September 1541) was a Swiss German[3] Renaissance physician, botanist, alchemist, astrologer, and general occultist.[4] He founded the discipline of toxicology.[5] He is also known as a revolutionary for insisting upon using observations of nature, rather than looking to ancient texts, in open and radical defiance of medical practice of his day.[5] He is also credited for giving zinc its name, calling it zincum.[6][7] Modern psychology often also credits him for being the first to note that some diseases are rooted in psychological illness.[8] His personality was stubborn and independent. He grew progressively more frustrated and bitter as he became more embattled as a reformer.[9]
Paracelsus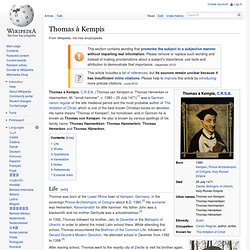 Thomas à Kempis
Monument on Mount Saint Agnes in Zwolle "Here lived Thomas van Kempen in the service of the Lord and wrote On the Imitation of Christ, 1406–1471" Thomas à Kempis, C.R.S.A. (Thomas van Kempen or Thomas Hemerken or Haemerken, litt. "small hammer"; c. 1380 – 25 July 1471)[1] was a German canon regular of the late medieval period and the most probable author of The Imitation of Christ, which is one of the best known Christian books on devotion. His name means "Thomas of Kempen", his hometown, and in German he is known as Thomas von Kempen. He also is known by various spellings of his family name: Thomas Haemerkken; Thomas Hammerlein; Thomas Hemerken and Thomas Hämerken.
Johannes Kepler (German: [ˈkʰɛplɐ]; December 27, 1571 – November 15, 1630) was a German mathematician, astronomer, and astrologer. A key figure in the 17th century scientific revolution, he is best known for his laws of planetary motion, based on his works Astronomia nova, Harmonices Mundi, and Epitome of Copernican Astronomy. These works also provided one of the foundations for Isaac Newton's theory of universal gravitation. During his career, Kepler was a mathematics teacher at a seminary school in Graz, Austria, where he became an associate of Prince Hans Ulrich von Eggenberg. Later he became an assistant to astronomer Tycho Brahe, and eventually the imperial mathematician to Emperor Rudolf II and his two successors Matthias and Ferdinand II. He was also a mathematics teacher in Linz, Austria, and an adviser to General Wallenstein.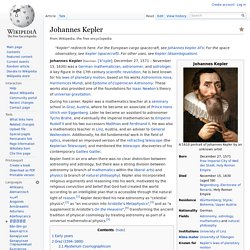 Jakob Böhme (probably April 24, 1575[1] – November 17, 1624) was a German Christian mystic and theologian. He is considered an original thinker within the Lutheran tradition, and his first book, commonly known as Aurora, caused a great scandal. In contemporary English, his name may be spelled Jacob Boehme; in seventeenth-century England it was also spelled Behmen, approximating the contemporary English pronunciation of the German Böhme. Biography[edit]
Jakob Böhme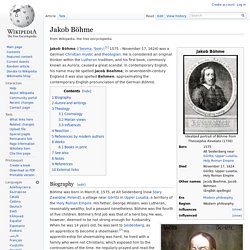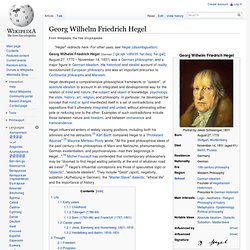 The birthplace of Hegel in Stuttgart, which now houses The Hegel Museum Georg Wilhelm Friedrich Hegel (German: [ˈɡeɔɐ̯k ˈvɪlhɛlm ˈfʁiːdʁɪç ˈheːɡəl]; August 27, 1770 – November 14, 1831) was a German philosopher, and a major figure in German Idealism. His historicist and idealist account of reality revolutionized European philosophy and was an important precursor to Continental philosophy and Marxism.
Friedrich Wilhelm Nietzsche (/ˈniːtʃə/[42] or /ˈnitʃi/;[43] German: [ˈfʁiːdʁɪç ˈvɪlhɛlm ˈniːt͡sʃə]; 15 October 1844 – 25 August 1900) was a German philologist, philosopher, cultural critic, poet and composer. He wrote several critical texts on religion, morality, contemporary culture, philosophy and science, displaying a fondness for metaphor, irony and aphorism. Nietzsche's key ideas include the Apollonian/Dionysian dichotomy, perspectivism, the Will to Power, the "death of God", the Übermensch and eternal recurrence. One of the key tenets of his philosophy is the concept of "life-affirmation," which embraces the realities of the world in which we live over the idea of a world beyond.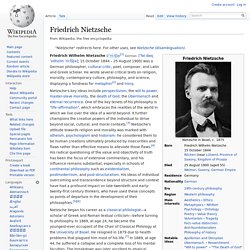 Life[edit] Schopenhauer's birthplace house in Gdańsk (German: Danzig), ul. Św. Ducha (formerly Heiligegeistgasse) Schopenhauer as a youth