Kanban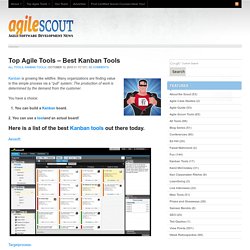 Kanban is growing like wildfire. Many organizations are finding value in this simple process via a "pull" system: The production of work is determined by the demand from the customer. You have a choice: 1.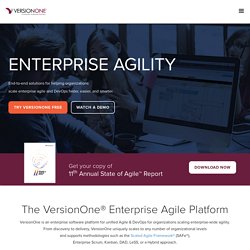 VersionOne pioneered the Agile and Scrum tool market more than a decade ago - way before other tool vendors jumped on the agile software bandwagon. Today we remain the only enterprise software company 100% dedicated to agile project and life cycle management since day one. Our mission is to help teams envision and deliver great software by providing the industry's most open, easy to adopt agile software management platform on the planet. From customer engagement to planning and tracking to source code integration, we help organizations scale their agile software development initiatives faster, easier, and smarter.
Silver Catalyst - Agile Project Management Tool: Manage distributed agile teams
Do you know what everyone is working on? Do you have a prioritised backlog of features to be implemented? Does everyone know what the status of the backlog is?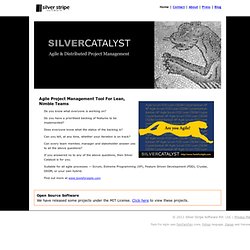 Plugin Gallery - Kanban Board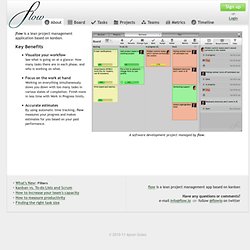 A software development project managed by flow. flow is a lean project management application based on kanban. Visualize your workflow See what is going on at a glance: How many tasks there are in each phase, and who is working on what. Focus on the work at hand Working on everything simultaneously slows you down with too many tasks in various states of completion. Finish more in less time with Work In Progress limits. Accurate estimates By using automatic time tracking, flow measures your progress and makes estimates for you based on your past performance.
Kanbanery
Meetings are faster and reports are unnecessary when you can see at a glance exactly what's happening in your project. See process risks before they turn into problems. "What should I be doing right now" The stressful question is a thing of the past. Everyone who's helping you sees the same information, even when you can not be together, so everyone knows what's going on and what to do. The best way to predict the future is by learning from the past.