Photoshop
Eyes on Design - Download free graphics and learn how to create stunning Adobe Photoshop effects. Adobe Photoshop Basics Free Online Class - Course Outline. Course Outline This is the main page for the Adobe Photoshop Basics Online Course.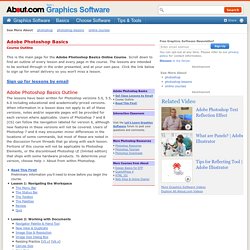 Scroll down to find an outline of every lesson and every page in the course. The lessons are intended to be worked through in the order presented, and at your own pace. Click the link below to sign up for email delivery so you won't miss a lesson. Sign up for lessons by email. How to Mix Hand Drawing Sketch With Photo. Published on Wed, Sep-22-2010 by Ricardo In this Photoshop tutorial we will show you how to create nice unique photo effect from sketch and your photo.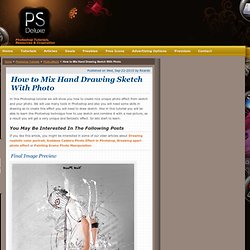 We will use many tools in Photoshop and also you will need some skills in drawing as to create this effect you will need to draw sketch. Learn a New Skill This Weekend. Instant Eyedropper: Identify HTML-color code of any pixel on the screen with single-click and auto paste it to the clipboard. Tutorials - Photoshopcontest.com. Pho.to - online photo editor, fun effects and tools, free software. Tutorials. Zombie-Fication! 20 Fantastic Photoshop Manipulation Tutorials -2010.
30 Watercolor Tutorials and Brush Sets for Photoshop. Through the use of brushes and various combinations of often pastel and neutral colors, creating that digital watercolor style in Photoshop can be a fun and rewarding experience.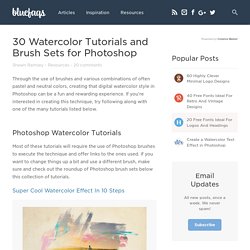 If you're interested in creating this technique, try following along with one of the many tutorials listed below. To help you gather resources, I've also included 15 of some of the best Photoshop watercolor brush sets available, located just below the tutorial roundup. Enjoy! Photoshop Watercolor Tutorials In an effort to only bring you the best watercolor tutorials available, I spent quite a bit of time hunting down the collection below.
Achieving a Vintage Look Through Color Tones in Photoshop CS. By Guest Contributor Anna Gay Photographers are often striving for a "vintage" look in their photos, and even though there are endless ways of achieving a vintage look, there are a couple of characteristics to keep in mind.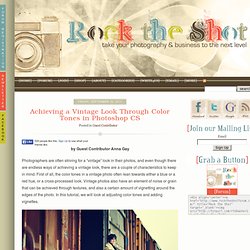 First of all, the color tones in a vintage photo often lean towards either a blue or a red hue, or a cross-processed look. Vintage photos also have an element of noise or grain that can be achieved through textures, and also a certain amount of vignetting around the edges of the photo. In this tutorial, we will look at adjusting color tones and adding vignettes. This photo is the result of adjusting the color curves, adding two vignettes, and a color fill, which we will walk through step-by-step. Laurie McCanna's complete list of Photoshop tutorials. Verio Offerings Create the site you want with Verio hosting plan options.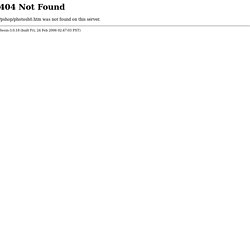 Powerful VPS service that allow you to customize your server configuration and choose the applications that match your needs. Verio is your strategic partner for top-tier hosting for complex websites and dedicated hosting. Use Verio's WHOIS database to search for and register the domain that fits your business best or get contact info for a domain that is already taken. Photoshop Shortcuts – The Fun Way. In this post I'm going to focus on several Photoshop shortcuts that I tend to use more often than others.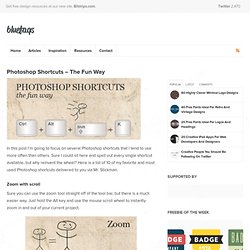 Sure I could sit here and spell out every single shortcut available, but why reinvent the wheel? Here is a list of 10 of my favorite and most used Photoshop shortcuts delivered to you via Mr. 50 Excellent Digital Photography Photoshop Tutorials - Smashing Magazine. Advertisement Adobe Photoshop is the industry standard for digital-image editing and graphics creation.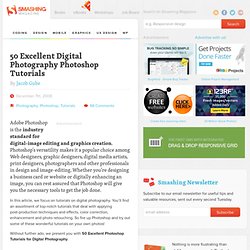 Photoshop's versatility makes it a popular choice among Web designers, graphic designers, digital media artists, print designers, photographers and other professionals in design and image-editing. Whether you're designing a business card or website or digitally enhancing an image, you can rest assured that Photoshop will give you the necessary tools to get the job done.
---