HTML5 Audio & Video
http://people.mozilla.com/~prouget/demos/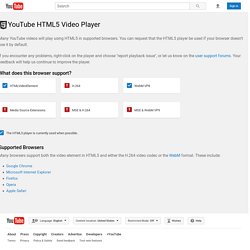 This is an opt-in trial of HTML5 video on YouTube. If you are using a supported browser, you can choose to use the HTML5 player instead of the Flash player for most videos. Your comments will help us improve and perfect the mixtures we're working on. So jump in, play around, and send your feedback directly to the brains behind the scenes. Supported Browsers
Every seasoned developer has one and every young and upcoming developer should be thinking of building one – a good and concise collection of UI controls, components and plugins that you can always rely on in times of need. Of course, there are plenty of great UI frameworks, kits and libraries that you could use, but none will offer you every component and none of them will be tailored to your own personal preferences and needs. Up until a few months ago my controls had been collected and sourced from various frameworks (Prototype, MooTools, jQuery…), upon review it seemed a little out-dated, some components unnecessary and some controls desperately needed updated. It seemed logical to give the collection a fresh outlook and a uniformity under one framework – I chose jQuery. (I have held on to a few controls that have not been built with jQuery, but for the sake of this post I have omitted them).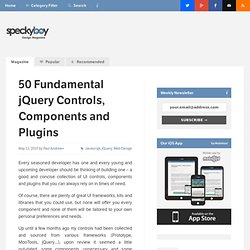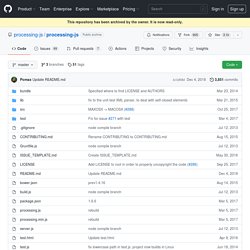 Processing.js 1.4.7 released! Since our last release, 1.4.1, Processing.js has been given a bit of a source code overhaul, culminating in a new release: 1.4.7! This release adds in new functionality that you might already know from Processing 2.0, but was missing in Processing.js such as new methods in PVector and XML. The release model has also been changed: we're going to be releasing a new version every time a merge in a patch that either fixes something, or adds a feature that is still missing. This makes things way easier for us to manage, and ensures that you don't have to wait months while updates slowly gather dust waiting for a major release. You can download the new version of Processing.js over on the download section, and let us know what's still missing!
Canvas | Answer My Query
Can we use HTML5 today? What can we do with it? Is it really going to kill Flash?