Japonais a triller
official lessons: Japanese Language Proficiency Test, Level 4
"By luck, I stumbled upon your site, and of course I wanted to try it out. I went on to deposit $500 on OneTwoTrade, then opened 5 positions and won 4. Took out the $500 and still have the profit of $288 to trade with. This is a great system you got there Sir, I definitely owe you one."
WebTV Korean, Japanese, Taiwanese Drama and Movie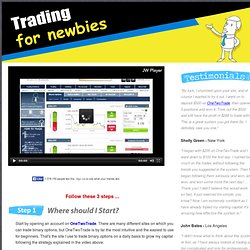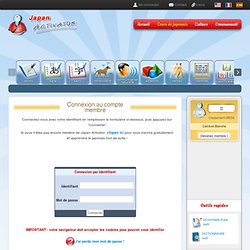 Japan-Activator n'est pas à proprement parlé un site web comme les autres, mais plutôt une application web. Son rôle n'est donc pas simplement de fournir du contenu, mais également un ensemble d'outils pour mettre en pratique ce que vous apprenez. Chaque fois que vous effectuez des exercices et passez des leçons, vous gagnez des points qui vous font progresser de la ceinture blanche jusqu'au niveau Sensei comme au karaté ou au judo.
Cours de japonais - Japan Activator
Asian streaming video
YOMIURI SHIMBUN MEDIA KIT
Apprendre le japonais/Learn Japanese