Furniture
Built-in Bookcases {make install
Recycled T-Shirt Sphere Pillows
DIY Project: Restoration Hardware Inspired Shelves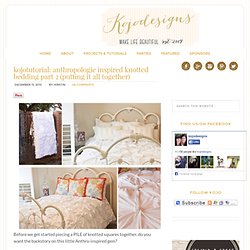 Before we get started piecing a PILE of knotted squares together, do you want the backstory on this little Anthro-inspired gem? First, you should know that I'm a bedding junkie. I LOVE wandering through Pottery Barn, Restoration Hardware, Crate and Barrel, Anthropologie (at Park Meadows in Denver, those stores are all conveniently located near each other as well) to see their bedroom displays. My ever-changing bedding crushes are a constant around here.
kojotutorial: anthropologie inspired knotted bedding part 2 (putting it all together)
10 Ways To Get the Canopy Look Without Buying a New Bed
Maybe you love the look of a canopy bed, but can't afford to buy new furniture. (Hey, beds are expensive). Or maybe you really like your current bed, but want to give it a bit of a romantic makeover.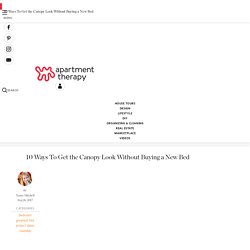 sewing 101: making a pouf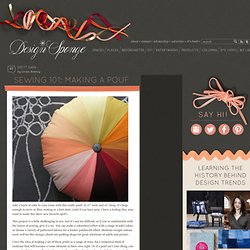 Add a burst of color to your room with this crafty pouf! At 17" wide and 10" deep, it's large enough to serve as floor seating or a foot stool. (And if you have pets, I have a feeling they may want to make this their new favorite spot!)
Apothecary-esk DIY
Stainless-Steel Kitchen Accessories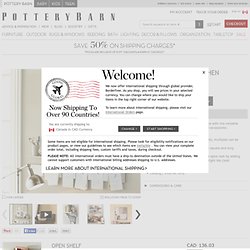 We now offer international shipping through global provider, Borderfree. As you shop, you will see prices in your selected currency. You can change where you would like to ship your items in the top right corner of our website.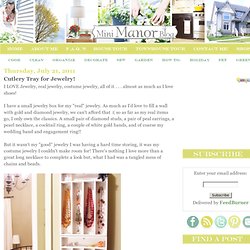 Mini Manor Blog: Cutlery Tray for Jewelry!
I LOVE Jewelry, real jewelry, costume jewelry, all of it . . . almost as much as I love shoes! I have a small jewelry box for my "real" jewelry. As much as I'd love to fill a wall with gold and diamond jewelry, we can't afford that :( so as far as my real items go, I only own the classics. A small pair of diamond studs, a pair of peal earrings, a pearl necklace, a cocktail ring, a couple of white gold bands, and of coarse my wedding band and engagement ring!!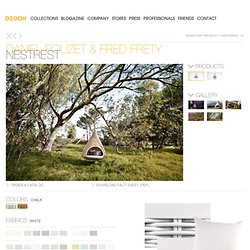 An over-sized bird's nest offering you a secluded, suspended sanctuary and unusual meeting place: it's the perfect place for relaxation, meditation and open-air conversations - NESTREST. NESTREST is made of an especially strong DEDON fiber (4 cm wide, instead of 2 cm), guaranteeing a sturdy and solid weave with excellent properties: it shelters those within, allowing them to look out while preventing outsiders from seeing in – a perfect feeling of security! Creators of the NESTREST, an innovative new hanging pod woven from supersize strands of DEDON Fiiber, Daniel Pouzet and Fred Frety are two of Paris's most intriguing design talents.
Nestrest - Hanging lounger - chalk
Build a King Storage Bed
STAINLESS STEEL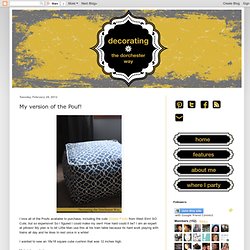 My version of the Pouf!
I love all of the Poufs available to purchase, including the cute Striped Poufs from West Elm! SO Cute, but so expensive! So I figured I could make my own! How hard could it be? I am an expert at pillows!
Tutorial: Build your own custom desk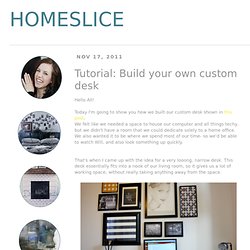 Hello All! Today I'm going to show you how we built our custom desk shown in this post. We felt like we needed a space to house our computer and all things techy.. but we didn't have a room that we could dedicate solely to a home office.
Peace Pod
Come & Knock On My Door
Kenneth Cobonpue
Nest Rest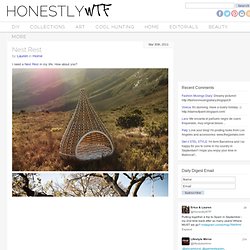 An Indoor Dip Would you have ever guessed that behind the door of this Manhattan townhouse is a living room with a pool?! With a swing?
Cardboard Safari
Make a Pretty Pouf Ottoman
Sew This Hot Accent Today Skim any home design magazine these days and you'll see that interior designers find poufs irresistible for their adaptability and usefulness. Get in on this hot trend without breaking your budget with our easy-to-follow instructions for making one of these stylish seats for well under $50. To keep our project affordable, we used a $7-per-yard linen burlap, a 54-inch decorator fabric that is durable and easy to work with. If you prefer another look, select a fabric that fits the same criteria. Download the step-by-step instructions and the patterns Gather your Tools Your first step is to gather your materials and tools for the project.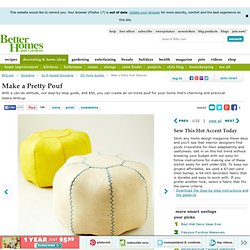 CHAIRWHORE.COM
IKEA Hackers