Dresses
How to Make a Dress Out of a T-Shirt. The Mission Maxi. Here it is!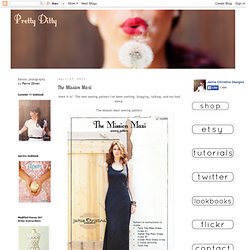 The new sewing pattern I've been waiting, blogging, talking, and excited about. The Mission Maxi sewing pattern After seeing all of the beautiful maxi dresses out this season, I just had to make a maxi sewing pattern. View B (halter top maxi) » DIY: Tank Dress with Pockets! academichic. At long last, I present a tutorial for the tank dress I made a few weeks ago before the end of the semester blindsided me.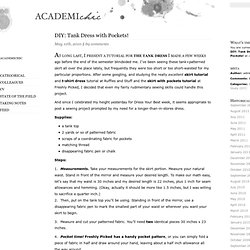 I've been seeing these tank+patterned skirt all over the place lately, but frequently they were too short or too short-waisted for my particular proportions. After some googling, and studying the really excellent skirt tutorial and t-shirt dress tutorial at Ruffles and Stuff and the skirt with pockets tutorial at Freshly Picked, I decided that even my fairly rudimentary sewing skills could handle this project. And since I celebrated my height yesterday for Dress Your Best week, it seems appropriate to post a sewing project prompted by my need for a longer-than-in-stores dress. Supplies: a tank top2 yards or so of patterned fabricscraps of a coordinating fabric for pocketsmatching threaddisappearing fabric pen or chalk.
Tutorial ~ Five Kitchen Towels Dress ~ I found this kitchen towel bundle for pretty good price (it was originally $16 and I got it for $8!).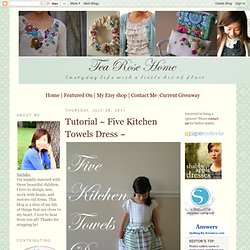 I had an idea of what I wanted to do with them... They are 100% cotton and very absorbent. Modcloth Dress Ed. Powered By Blogger Widgets | Customized By: Blogging Tips close 17,754 readers RSS feed | E-mail Search This Blog Grosgrain Archives.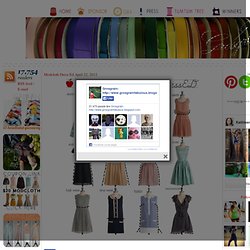 DIY Fashion: #DIYBFW day 3: D&G inspired scarf dress DIY. Finally is my turn to house the party!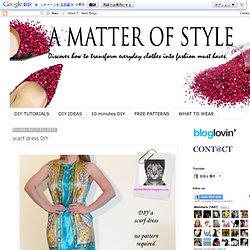 For day 3 of #DIY bloggers fashion week I would like to show you how to turn a big scarf into a wearable dress without using any pattern. Scarves add a chic touch to any outfit. JCrew Inspired Dress Tutorial. Hi everyone!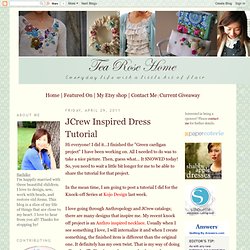 I did it...I finished the "Green cardigan project" I have been working on. All I needed to do was to take a nice picture. How To Make An Easy Dress (For Cheap!) Two facts about me: I'm cheap.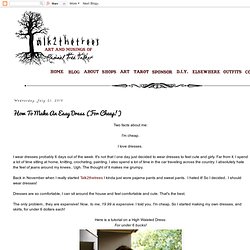 I love dresses. I wear dresses probably 6 days out of the week. Tutorial: how to sew a simple maxi dress. The 30 Minute $6 Dress. Guest post by Rachael at Talk 2 the Trees.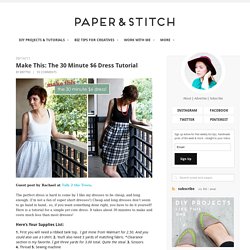 The perfect dress is hard to come by. I like my dresses to be cheap, and long enough. (I'm not a fan of super short dresses!) Cheap and long dresses don't seem to go hand in hand.. so, if you want something done right, you have to do it yourself! Angrakha wrap tunic. How To Make An Easy Dress (For Cheap!) Skirt to dress (mini-tutorial) My new favorite dress used to be a long gypsy skirt.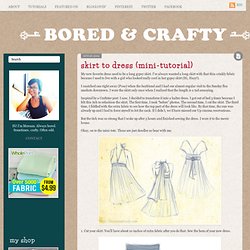 I've always wanted a long skirt with that thin crinkly fabric because I used to live with a girl who looked really cool in her gypsy skirt (Hi, Hazy!). I snatched one right away (P1oo) when the boyfriend and I had our almost-regular visit to the Sunday flea markets downtown. Tutorial: how to sew a simple maxi dress. Corset Dress. KOJO"S Maxi Oasis. Today we are lucky enough to some how have scored Kirsten, from KOJO Designs (our partners in crime) amazing Maxi dress tutorial!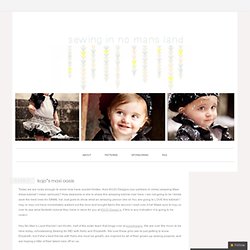 I mean seriously? How awesome is she to share this amazing tutorial over here, I am not going to lie I kinda save the best ones for SINML ha! Just goes to show what an amazing person she is! Short Dress to Maxi Dress. Just like my shirts, sometimes I have a dress that shrinks up a bit. Even if I know I shouldn't dry it, sometimes it makes it way into the dryer accidentally. Whoops! Anyhow, that was the story with a little black dress I had. After taking matters into my own hands, now it looks like this. I love maxi dresses and they are big right now. The 30 Minute $6 Dress. Versa Skirt Dress tutorial. Jessica, one of my wonderful readers, contacted me last week with some advice on how to recreate a dress. I had just bought some striped knit from Joann's on clearance with the intent to make…something.
Maybe a skirt. I didn't really know. After I got her email, I knew I had to use it for her dress. (tutorial) My Favorite Tee Dress. I love do it yourself. (tutorial) Hint of Vintage Maxi Dress.
---