SIPs
Structural Insulated Panels (SIPs) Throughout the country, Timber Frame construction is becoming more and more popular, and for good reason.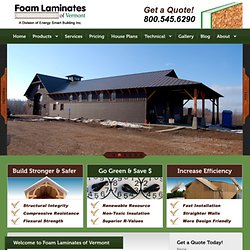 The structural skeleton of a Post and Beam home is stronger and more aesthetically pleasing than conventionally framed structures. At one time, insulating a post and beam structure demanded stud wall framing and conventional fiberglass insulation, which diminished the beauty of the exposed timbers. Insulated Component Structures, ICS | Commercial SIPs by SIP Supply. W.A. Brown & Son, Inc – Quality Coolers and Freezers for 100 Years. Prefab Insulated Panel — www.prefabinsulatedpanel.com. Eco-Panels, Llc - Mocksville, NC (North Carolina) | (336) 936-0148. Company Overview | Commercial SIPs by SIP Supply. SIP Supply, LLC is a technology patent holder for their Greenix Panel servicing the commercial construction industry with Greenix SIPs that deliver premium thermal efficiency, structural integrity and design flexibility.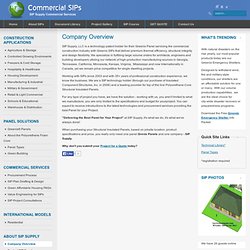 We specialize in fulfilling large volume orders for architects, engineers and building developers utlizing our network of high-production manufacturing sources in Georgia, Tennessee, California, Minnesota, Kansas, Virginia, Mississippi and now Internationally in Canada, yet we remain price competitive for single dwelling projects. Working with SIPs since 2003 and with 35+ years of professional construction experience, we know the business.
---