Spanish
Spanish Verb Conjugations. Www.languagesonline.org.uk. Beautiful Time. Podcast - AsíSeHace.net. Podcast#10 – En la oficina de turismo Click here to download this podcast Click here to subscribe in iTunes Watch or dounload this video to revise the vocabulary you need en la oficina de turismo .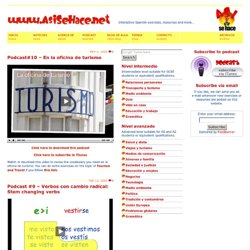 You can do some exercises on the topic of Tourism and Travel if you follow this link . Los Videos | Sr Jordan's Spanish Videos. Here are the videos (so far) organized according to level of difficulty.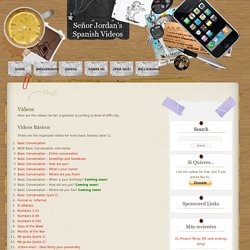 Videos Básicos These are the organized videos for more basic lessons (year 1). Videos avanzados These are the more advanced videos. Search on PodcastAlley. Spanish Phrase of the Day: Me habla acerca de su viaje a Florida.
---