Market Research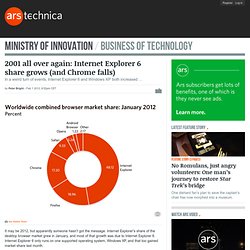 It may be 2012, but apparently someone hasn't got the message. Internet Explorer's share of the desktop browser market grew in January, and most of that growth was due to Internet Explorer 6. Internet Explorer 6 only runs on one supported operating system, Windows XP, and that too gained market share last month.
2001 all over again: Internet Explorer 6 share grows (and Chrome falls)
Why do statisticians answer silly questions that no one ever asks? - Briggs - 2012 - Significance
Options for accessing this content: If your institution is a registered Wiley Online Library customer, you can log in under your institution's name to see our content. This access is provided by Shibboleth or Athens. Type your institution's name in the box below.