Architectes
n ARCHITECTS - Eric Bunge, Mimi Hoang
Arkitekt Tommie Wilhelmsen
Home | Charlie Whinney Designs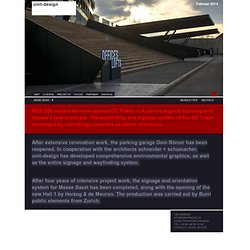 Newsletter Deutsch After extensive renovation work, the parking garage Dom Römer has been reopened. In cooperation with the architects schneider + schumacher, unit-design has developed comprehensive environmental graphics, as well as the entire signage and wayfinding system. After four years of intensive project work, the signage and orientation system for Messe Basel has been completed, along with the opening of the new Hall 1 by Herzog & de Meuron. The production was carried out by Burri public elements from Zurich.
unnamed pearl
Dre Wapenaar // Canvas-, Steel-, and Woodprojects
baumraum - Baumhaus, Baumhäuser
SUBARQUITECTURA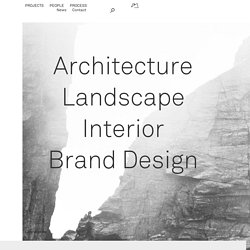 Snohetta
The Contemporary Austin Announces SNØHETTA as One of Three Finalists for Laguna Gloria Master Site Plan Landscape Architectural Services (AUSTIN, TX – January 12, 2014) – Louis Grachos, Ernest and Sarah Butler Executive Director of The Contemporary Austin, announces three internationally renowned landscape architects as finalists in creating a Master Site Plan for Laguna Gloria, Austin's picturesque historic treasure. This process will allow the institution to further its mission as a dynamic contemporary arts destination integrated into a beautiful natural setting. The three finalists are: Andrea Cochran Landscape Architecture (San Francisco, CA); Reed Hilderbrand Landscape Architecture (Boston, MA); and SNØHETTA (New York, NY, and Oslo, Norway). Read the full press announcement here.
SMAQ - architecture | urbanism | research ______________________________________________________________________________________________________________________________________________________
Prize / Neuer Markt / Rostock, Germany SMAQ wins the urban design competition "Nordseite Neuer Markt" for the city center of Rostock, Germany together with two other teams. An exhibition of the competition entries is on show from November 20th until December 4th 2013 in the City Hall, Neuer Markt 1 in Rostock, Germany. Scientific Colloquium / The Future of the Modern City / Wolfsburg, Germany Sabine Müller and Andreas Quednau (SMAQ) are invited to speak at the scientific colloquium "The Future of the Modern City" organized by the German Academy for Urban Design and Planning (DASL) in Wolfsburg, Germany in the session "Transformation" about the further development of the ideas and principles of the modern city for the needs and [more] Conference / Cities 2030 / University of Miami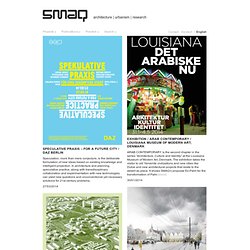 Escuela de Arquitectura, Universidad de Talca. OBRA DE TITULO Alumno: Rodrigo ShewardAño: 2006Proceso de diseño: marzo - septiembreProceso de construcción: septiembre - diciembre Fecha de entrega de la obra: 19 de diciembreStaff de profesores: Juan Pablo Corvalán, Kenneth Gleiser, Andrés Maragaño, Fernando Montoya, Mauricio Ramírez, Carolina Reyes, Juan Román, Germán Valenzuela, Blanca Zúñiga.Profesor guía: Germán Valenzuela Materialidad: Madera reciclada, Coigüe (pellín). 2050 pulgadas madereras.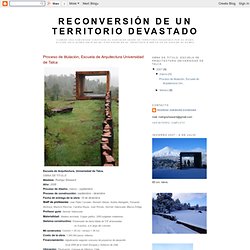 reconversión de un territorio devastado
Saunders Architecture
::: ROBBRECHT EN DAEM :::
Philippe Rahm architectes
9.16.13-10.20.13 CHINA INTERNATIONAL ARCHITECTURAL BIENNALE The Cube, the winning entry for the 2013 Beijing Biennale competition, will be exhibited with 10 other pavilions at the Beijing Olympic Park. 10.18.13 LECTURE AT CAL POLY SAN LUIS OBISPO Dwayne Oyler & Jenny Wu will lecture at Cal Poly San Luis Obispo as part of the Hearst Lecture Series. 9.28.13 AIACC MONTEREY DESIGN CONFERENCE Oyler Wu Collaborative was selected as one of the AIACC emerging talents to lecture at the Monterey Design Conference. 4.20.13 STORMCLOUD Stormcloud, a pavilion designed by Oyler Wu Collaborative, opens for the SCI-Arc 40th anniversary celebration afterparty. 4.20.13 TAIPEI SALES CENTER Taipei Sales Center, a new facade design & interior renovation of an existing 5 story commercial building opens in Taipei, Taiwan. It will be open to public until September.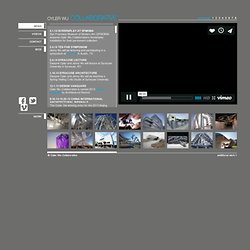 Oyler Wu Collaborative
NIO architecten
N55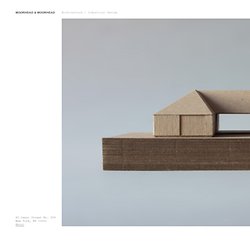 Moorhead & Moorhead is the New York City-based studio of brothers Granger and Robert Moorhead. Trained as an architect and industrial designer, respectively, the two collaborate on projects ranging in scale from furniture to buildings. Their diverse body of work is united by a common theme – the inventive use of everyday materials to solve issues of function and form in simple, unexpected ways. It has been recognized by, among others, the Cooper-Hewitt National Design Museum (National Design Triennial, 2007), the Architectural League of New York (Emerging Voices, 2008), New York Foundation for the Arts (NYFA Fellows in Architecture/Environmental Structures, 2010), the Museum of Modern Art (MoMA PS1 Young Architects Program, Finalists, 2013), and the New York City Department of Design + Construction (DDC Design + Construction Excellence Program, 2013).
Moorhead & Moorhead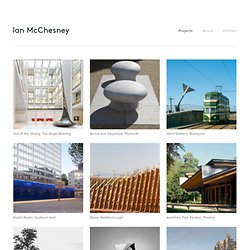 Ian McChesney is a multidisciplinary studio whose work includes architecture, public realm, art, furniture and product design. Ian McChesney creates unique sculptural interventions, guided by a strong clear vision for a wide range of clients and situations. Each piece is unambiguously engaging, through the material presence of its form-making. Established in 2001 the studio has gained recognition for its award winning and highly distinctive cross-disciplinary work embracing architecture, urban design and public art. The studio is scaled and structured to ensure consistent design direction and rigorous attention to detail at every stage of a project.
McChesney Architects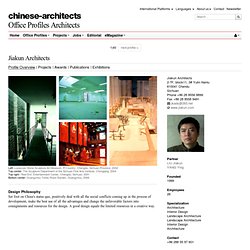 Architects - Chendu - Architects | chinese-architects.com
LIU Jiakun was born in Chengdu in 1956, graduated from the Department of Architecture in Chongqing Institute of Architecture and Engineering in 1982. In 1999 he founded Jiakun Architects. LIU Jiakun works as the chief architect and his projects were selected for many international exhibitions, such as the Xiyuan Leisure Camp, the Series of Artist Work Studios, the Luyeyuan Stone Sculpture Art Museum, the Department of Sculpture of Sichuan Art Institute and "The Red Era" Entertainment Center. These projects also won the Honor Prize of the 7th ARCASIA, Chinese Architecture Art Prize in 2003, the China Architectural Record Award. The projects have been covered by Publications like: a+u, AV, area, Bauwelt, Architectural Record and the book MADE IN CHINA.
Kengo Kuma and Associates
STUDIOLUKASZKOS
GJS-Gin Johannes Studio Architects
HERZOG & DE MEURON
Herault Arnod Architectes
atmosstudio
GRO Architects
unnamed pearl
"MINA TIDIGASTE MINNEN HAR EN MYCKET TYDLIG KOPPLING TILL ALLT DET SOM FINNS UTOMHUS. Till upplevelser av landskapets fukt och torrhet, hetta och kyla. Växter, djur och småkryp som fanns där, ljud och dofter. Minnen som vaknar till liv först vid ett igenkännande, som en inbyggd kompass för en specifik hemvist." Min Trädgård är en utställning som pågick på Staffanstorps Konsthall under sommaren och hösten 2012.
Gollifer Langston Architects
front_architects
AGENCE D'ARCHITECTURE GILLES EBERSOLT SARL
DRN
Christ & Gantenbein
Casey Brown Architecture
BNKR Arquitectura
welcome : boris banozic
atelierone
Najjar & Najjar Architects
J. MAYER H.    ARCHITECTURE DESIGN RESEARCH
Jack Woolley - Architect