Architectes
N ARCHITECTS - Eric Bunge, Mimi Hoang. Arkitekt Tommie Wilhelmsen. Home | Charlie Whinney Designs. Untitled. Dre Wapenaar // Canvas-, Steel-, and Woodprojects. Baumraum - Baumhaus, Baumhäuser. SUBARQUITECTURA. Snohetta. SMAQ - architecture | urbanism | research ______________________________________________________________________________________________________________________________________________________
Reconversión de un territorio devastado. Saunders Architecture. ::: ROBBRECHT EN DAEM ::: Philippe Rahm architectes. Oyler Wu Collaborative. NIO architecten. N55. Moorhead & Moorhead. McChesney Architects. Architects - Chendu - Architects | chinese-architects.com. LIU Jiakun was born in Chengdu in 1956, graduated from the Department of Architecture in Chongqing Institute of Architecture and Engineering in 1982.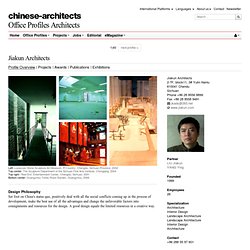 In 1999 he founded Jiakun Architects. LIU Jiakun works as the chief architect and his projects were selected for many international exhibitions, such as the Xiyuan Leisure Camp, the Series of Artist Work Studios, the Luyeyuan Stone Sculpture Art Museum, the Department of Sculpture of Sichuan Art Institute and "The Red Era" Entertainment Center. These projects also won the Honor Prize of the 7th ARCASIA, Chinese Architecture Art Prize in 2003, the China Architectural Record Award. The projects have been covered by Publications like: a+u, AV, area, Bauwelt, Architectural Record and the book MADE IN CHINA. Kengo Kuma and Associates. STUDIOLUKASZKOS. GJS-Gin Johannes Studio Architects. HERZOG & DE MEURON. Herault Arnod Architectes. Atmosstudio. GRO Architects. Untitled. Gollifer Langston Architects. Front_architects. AGENCE D'ARCHITECTURE GILLES EBERSOLT SARL. DRN. Christ & Gantenbein. Casey Brown Architecture. BNKR Arquitectura. Welcome : boris banozic. Atelierone.
Najjar & Najjar Architects. J. MAYER H.    ARCHITECTURE DESIGN RESEARCH. Jack Woolley - Architect.
---