Outil Web
Fiddler Web Debugger - Help & How-To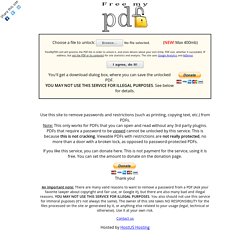 Sep 12, 2013: The issue affecting the site in the last few days has been fixed. We also increased the maximum size of PDFs allowed to 200mb as a way of saying "thank you". Use this site to remove passwords and restrictions (such as printing, copying text, etc.) from PDFs. Note: This only works for PDFs that you can open and read without any 3rd party plugins. PDFs that require a password to be viewed cannot be unlocked by this service. This is because this is not cracking.
FreeMyPDF.com - Removes passwords from viewable PDFs
Are You In Control of Your Social Media Privacy? [INFOGRAPHIC]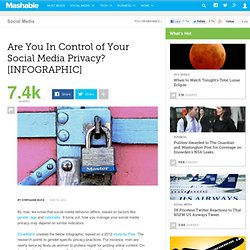 By now, we know that social media behavior differs, based on factors like gender, age and nationality. It turns out, how you manage your social media privacy may depend on similar indicators. ZoneAlarm created the below infographic, based on a 2012 study by Pew.
Semioboard is an online social media monitoring and analytics tool designed to help you in tracking what is said about brands, products and companies on the internet. Semioboard scans billions of status updates and tweets; and millions of web pages – including news, blogs and discussions. With Semioboard, listen to the online buzz and discover what people say about you on the internet. Discover Semioboard right now by signing up . You can even request an online demo .
Veille et analyse multilingue de Twitter, Facebook, Weibo et de l'ensemble Web Social — Semioboard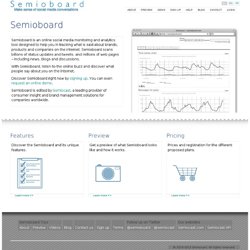 Etanchéité 2.0 Pourquoi et comment gérer son identité numérique à ...
【科普一下】关于墙_Peter的游击战
TCheese Copywriter (teecheese) on Pinterest
unnamed pearl
钢笔工具使用——路径终极教程(PS+FW+Illustrator适用)