Artist
National Gallery of Ireland | 'Gabriel Metsu - Rediscovered Master of the Dutch Golden Age' Gabriel Metsu - The complete works. ParkeHarrison: The Architect's Brother. Artist listing. Illusions Gallery Fine Art Prints on CanvasAll Prints Made in America Home Artists Titles Themes Links FAQ Shipping & Returns Wholesale Privacy Contact A B C D E F G H I J K L M N O P Q R S T U V W X Y Z Abbey,Edwin Austin (American, 1852 – 1911) Adams, John Ottis (American, 1851-1927)Agache, Alfred Pierre (French, 1843-1915)Aleisha (American, living)Alexander, John White (American, 1866-1915)Alma-Tadema, Sir Lawrence (Dutch, 1836-1912)Alma-Tadema, Lady Laura (1852-1909)Aman-Jean, Edmond (French, 1860-1935)Anderson, Sophie (French, 1823 - 1903)Angelico, Fra Giovanni, (Italian,1395 -1455)Ansdell, Richard (Scottish, 1815-1885)Apol, Louis (Dutch, 1850-1936)Atkins, Mary Elizabeth (British, 1898-1940) Baierl,Theodor (German,1881-1932)Bakhuyzen, Geraldine Jacoba Van De Sande (Dutch, 1826-1895) Barber, Charles Burton (British, 1845 - 1894) Barker.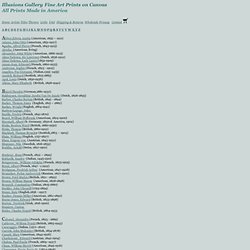 Remedios Varo. Susan Seddon Boulet. Werner Graul. Werner Graul (1905-1984) Родился Friedrich Hermann Werner Graul в Берлине 18.10.1905.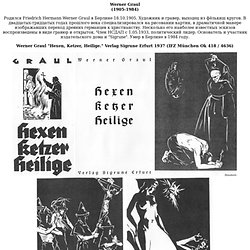 Художник и гравер, выходец из фёлькиш кругов. Franz Von Stuck. Museum Villa Stuck: FRANZ VON STUCK. MEISTERWERKE DER MALEREI. Salvador Dali Online. Essential Vermeer.
---