Artist
National Gallery of Ireland | 'Gabriel Metsu - Rediscovered Master of the Dutch Golden Age'
Gabriel Metsu (January 1629, Leiden - buried Oct 24, 1667, Amsterdam), Dutch painter, was the son of the Flemish painter Jacques Metsu (c.1588-1629), who lived most of his days at Leiden, where he was three times married. The last of these marriages was celebrated in 1625, and Jacomijntje Garniers, herself the widow of a painter with already three children, gave birth to Gabriel. According to Houbraken Metsu was taught by Gerard Dou, though his early works do not lend colour to this assertion. He was influenced by painters in Leiden like Jan Steen and Jan Lievens, later by Frans van Mieris the Elder.
Gabriel Metsu - The complete works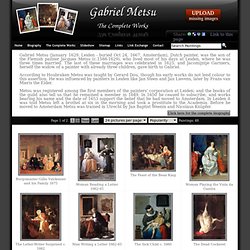 ParkeHarrison: The Architect's Brother
Artist listing
Illusions Gallery Fine Art Prints on CanvasAll Prints Made in America Home Artists Titles Themes Links FAQ Shipping & Returns Wholesale Privacy Contact A B C D E F G H I J K L M N O P Q R S T U V W X Y Z Abbey,Edwin Austin (American, 1852 – 1911) Adams, John Ottis (American, 1851-1927)Agache, Alfred Pierre (French, 1843-1915)Aleisha (American, living)Alexander, John White (American, 1866-1915)Alma-Tadema, Sir Lawrence (Dutch, 1836-1912)Alma-Tadema, Lady Laura (1852-1909)Aman-Jean, Edmond (French, 1860-1935)Anderson, Sophie (French, 1823 - 1903)Angelico, Fra Giovanni, (Italian,1395 -1455)Ansdell, Richard (Scottish, 1815-1885)Apol, Louis (Dutch, 1850-1936)Atkins, Mary Elizabeth (British, 1898-1940) Baierl,Theodor (German,1881-1932)Bakhuyzen, Geraldine Jacoba Van De Sande (Dutch, 1826-1895) Barber, Charles Burton (British, 1845 - 1894) Barker.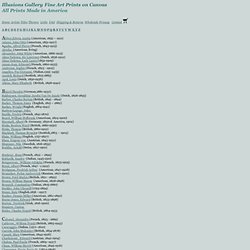 Remedios Varo
Susan Seddon Boulet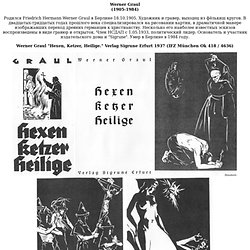 Werner Graul (1905-1984) Родился Friedrich Hermann Werner Graul в Берлине 18.10.1905. Художник и гравер, выходец из фёлькиш кругов.
Werner Graul
Franz Von Stuck
Museum Villa Stuck: FRANZ VON STUCK. MEISTERWERKE DER MALEREI
Salvador Dali Online
ESSENTIAL VERMEER TIME is an open door onto the spinning wheels, grinding cogs, ideas, inspirations, doubts and dreams that make the Essential Vermeer website run full steam ahead. You'll find opinions, the latest Vermeer news (practically real time) and information about what's currently under development and way down the pipeline. latest post: Vermeer Thefts CLICK HERE to access the latest Vermeer Newsletter The Girl with a Pearl Earring in America: Unraveling the Masterpiece