Oil
Latest from the Taskforce | The Peak Oil Group. Discussions about Energy and Our Future. Where we are headed: Peak oil and the financial crisis. Our One-Way Economy Our economy is very much a one way economy--because of its heavy reliance on debt, it needs to grow.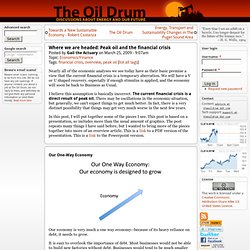 It is easy to overlook the importance of debt. The Oil Drum: Net Energy | Discussions about Energy and Our Future. The Oil Drum: Net Energy | Further Evidence of the Influence of Energy on the U.S. Economy. Posted by David Murphy on April 16, 2009 - 11:11am in The Oil Drum: Net Energy Topic: Economics/Finance Tags: dot-com bubble, economy, energy, eroi guy, finance, housing bubble, oil crisis, original, petroleum expenditures, steve balogh [list all tags] Gail, Jeff Rubin , and now James Hamilton (warning- pdf) of the University of California – San Diego have produced literature correlating either this financial collapse or recessions more generally with peak oil and oil prices.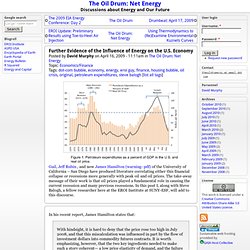 The take-away message of their work is that oil prices played a fundamental role in causing the current recession and many previous recessions. In this post I, along with Steve Balogh, a fellow researcher here at the EROI Institute at SUNY-ESF, will add to this discourse.
---