Oil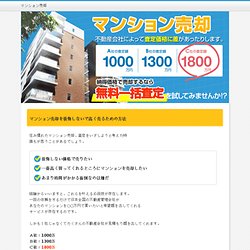 Latest from the Taskforce On 23 May 2011, six UK companies - Arup, Buro Happold, SSE, Solarcentury, Stagecoach Group and Virgin - welcomed the UK Government's commitment to work with the private sector on contingency plans to protect the UK and its economy from the growing risk of rising oil prices. In a press release, available here, ITPOES said that the first collaboration should be to jointly examine concerns that global oil supply will begin to fall behind global demand within as little as five years - far earlier than previous widely-held assumptions. If you have a press query, please visit the press contacts page. The UK Industry Taskforce on Peak Oil and Energy Security (ITPOES) formed in 2008 as a coalition of British companies sharing concerns about the state of the UK's energy security.
Latest from the Taskforce | The Peak Oil Group
The Oil Drum (TOD) was an internet energy phenomenon that ran for over eight years from April 2005 to September 2013. The site was founded by Prof. Goose (also known as Professor Kyle Saunders of Colorado State University) and Heading Out (also known as Professor Dave Summers formerly of the Missouri University of Science and Technology). The site took off with the advent of Hurricane Rita in September 2005 and resulted in the first 200+ comment event, indicating that there was demand for a site where concerned citizens could gather round a camp fire to discuss events impacting their energy supplies and ultimately, their well being.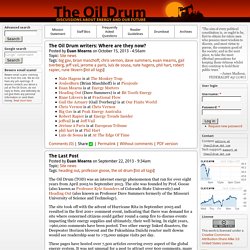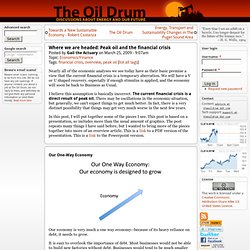 Where we are headed: Peak oil and the financial crisis
Our One-Way Economy Our economy is very much a one way economy--because of its heavy reliance on debt, it needs to grow. It is easy to overlook the importance of debt.
The following is a brief portion of a paper of the same title that we (Charles Hall and I) wrote and that is currently under peer-review. I will be presenting on this topic at this year's ASPO conference in Washington, D.C. I hope that our readers will attend! Numerous theories attempting to explain business cycles have been posited over the past century, each offering a unique explanation for the causes of--and solutions to--recessions, including: Keynesian Theory, the Monetarist Model, the Rational Expectations Model, Real Business Cycle Models, New (Neo-) Keynesian models, etc… Yet, for all the differences amongst these theories, they all share one implicit assumption: a return to a growing economy, i.e. growing GDP, is in fact possible.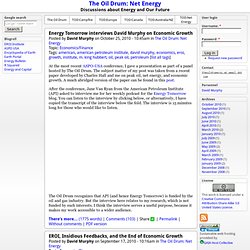 The Oil Drum: Net Energy | Discussions about Energy and Our Future
The Oil Drum: Net Energy | Further Evidence of the Influence of Energy on the U.S. Economy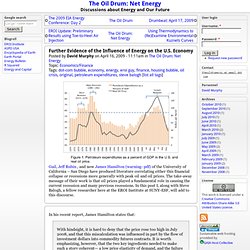 Posted by David Murphy on April 16, 2009 - 11:11am in The Oil Drum: Net Energy Topic: Economics/Finance Tags: dot-com bubble, economy, energy, eroi guy, finance, housing bubble, oil crisis, original, petroleum expenditures, steve balogh [list all tags] Gail, Jeff Rubin , and now James Hamilton (warning- pdf) of the University of California – San Diego have produced literature correlating either this financial collapse or recessions more generally with peak oil and oil prices. The take-away message of their work is that oil prices played a fundamental role in causing the current recession and many previous recessions. In this post I, along with Steve Balogh, a fellow researcher here at the EROI Institute at SUNY-ESF, will add to this discourse.
2010 Peak Oil Report Download 2010 report Business calls for urgent action on "oil crunch" threat to UK economy Taskforce warns Britain is unprepared for significant risk to companies and consumersPoorest to be hit hardest by price rises for travel, food, heating and consumer goodsNew policies must be priority for whoever wins the General ElectionRecommended packages include legislation, new technologies and behaviour-change incentivesFundamental change in demand patterns triggered by emerging economy countries London, 10 February, 2010: A group of leading business people today call for urgent action to prepare the UK for Peak Oil.
2010 Peak Oil Report | The Peak Oil Group