Bicycling
Looks like Shimano is entering the game of cameras this Spring. Shimano CM-1000 Sport Camera POV . Set to ship around May, a stardard camera comes standard with the camera and lens cover, an adhesive mount and vented helmet mount, a USB cable and start up manual. They have some pretty cool features on the camera too. -HD movies and still photos. -Built in 2 angle feature 135° and super wide 180° modes,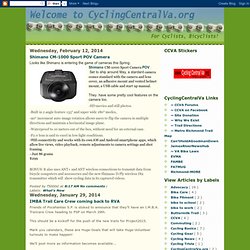 CyclingCentralVa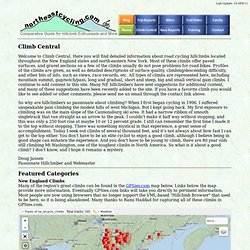 Climb Central Welcome to Climb Central. Here you will find detailed information about road cycling hillclimbs located throughout the New England states and north-eastern New York. Most of these climbs offer paved surfaces, and gravel sections on a few of the climbs usually do not pose problems for road bikes. Profiles of the climbs are given, as well as detailed descriptions of surface quality, climbing/descending difficulty, and other bits of info, such as views, race records, etc.
Climb Central
Cyclefilm - Cyclefilm - Cycling Productions
Cyclepassion Eyes Wide Open DVD - Cyclefilm - Cycling Productions
GoingGoingBike - Auctions - Bike News - Cycle Stuff
Welcome!
A Dial-Gauge Bicycle Wheel Building Stand for $100
By Chuck Connell, www.chc-3.com, connell@chc-3.com This article describes how to assemble an inexpensive, but very accurate, wheel building stand for bicycles. The stand uses a dial gauge indicator that is accurate to 1/1000th of an inch, but the complete stand can be finished for about $100. The low price is achieved by using inexpensive options for the primary parts: the overall platform of the tool, the wheel holding mechanism, the dial gauge, and the magnetic base for the gauge.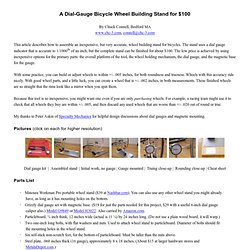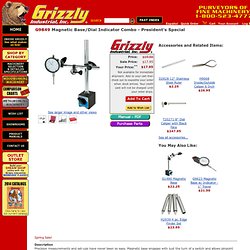 G9849 Magnetic Base/Dial Indicator Combo - President's Special
G9849 Magnetic Base/Dial Indicator Combo - President's Special Spring Sale! Description Precision measurements and set-ups have never been so easy. Magnetic base engages with just the turn of a switch and allows pinpoint adjustment.
58. How to Tension Wheel Spokes Learn how to properly tension the spokes in a wheel. Rim, Spoke, Wheel 57.