XML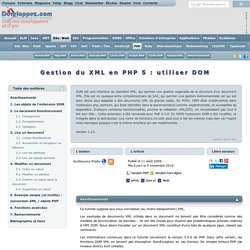 Ce tutoriel suppose que vous connaissez (au moins basiquement) XML. Les exemples de documents XML utilisés dans ce document ne doivent pas être considérés comme des modèles de structuration de données... Ils ont été choisis pour illustrer des problématiques précises relatives à l'API DOM. Nous allons travailler sur un document XML constitué d'une liste de quelques pays, classés par continents.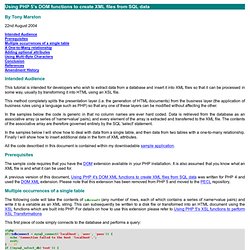 Using PHP 5's DOM functions to create XML files from SQL data
By Tony Marston 22nd August 2004 Intended AudiencePrerequisitesMultiple occurrences of a single tableA One-to-Many relationshipAdding optional attributesUsing Multi-Byte CharactersConclusionReferencesAmendment History Intended Audience This tutorial is intended for developers who wish to extract data from a database and insert it into XML files so that it can be processed in some way, usually by transforming it into HTML using an XSL file. This method completely splits the presentation layer (i.e. the generation of HTML documents) from the business layer (the application of business rules using a language such as PHP) so that any one of these layers can be modified without affecting the other.
XML for <SCRIPT> Cross Platform XML Parser in JavaScript
swfmill swf2xml and xml2swf