Halfanhour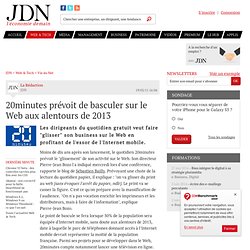 20minutes prévoit de basculer sur le Web aux alentours de 2013
Les dirigeants du quotidien gratuit veut faire "glisser" son business sur le Web en profitant de l'essor de l'Internet mobile. Moins de dix ans après son lancement, le quotidien 20minutes prévoit le "glissement" de son activité sur le Web. Son directeur Pierre-Jean Bozo l'a indiqué mercredi lors d'une conférence, rapporte le blog de Sébastien Bailly. Prévoyant une chute de la lecture du quotidien papier, il explique : "on va glisser du print au web [sans évoquer l'arrêt du papier, ndlr].
At the end of 2010, the leader of one of the world's largest media agencies inquired of me on behalf of the CMO of a brand we all know: "Our client wishes to shift $100 million of spend into online and mobile video advertising tomorrow. Can it or even should it be done?" Hearing this opportunity posited this way was like sniffing smelling salts. For all the discussion to date about how online and mobile video advertising has the opportunity for greater creativity, should be more effective than traditional TV advertising, and is nearing almost as much reach, we have yet to face this ultimate test of scale -- the $100 million challenge. To successfully court major buys from TV advertisers, we need to meet this challenge head on, but as with any challenge there are obstacles that must be bested.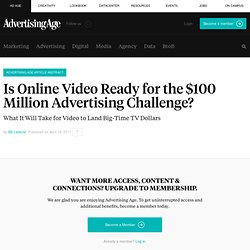 Is Online Video Ready for the $100 Million Advertising Challenge?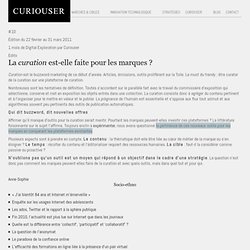 What Alice Found — 15 jours de Digital Exploration par Curiouser
Edito Curation est le buzzword marketing de ce début d'année. Articles, émissions, outils prolifèrent sur la Toile. Le must du trendy : être curator de la curation sur une plateforme de curation. Nombreuses sont les tentatives de définition. Toutes s'accordent sur le parallèle fait avec le travail du commissaire d'exposition qui sélectionne, conserve et met en exposition les objets entrés dans une collection.
Publicité en ligne : la vidéo en pleine explosion - COMMUNICATION
Josh Sternberg is the founder of Sternberg Strategic Communications and authors The Sternberg Effect. You can follow him on Twitter and Tumblr. Over the past few weeks, many worries about the death of journalism have, well, died.