Halfanhour
20minutes prévoit de basculer sur le Web aux alentours de 2013. Les dirigeants du quotidien gratuit veut faire "glisser" son business sur le Web en profitant de l'essor de l'Internet mobile.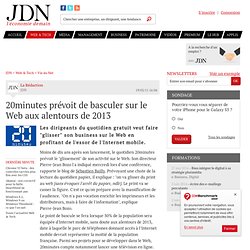 Moins de dix ans après son lancement, le quotidien 20minutes prévoit le "glissement" de son activité sur le Web. Son directeur Pierre-Jean Bozo l'a indiqué mercredi lors d'une conférence, rapporte le blog de Sébastien Bailly. Prévoyant une chute de la lecture du quotidien papier, il explique : "on va glisser du print au web [sans évoquer l'arrêt du papier, ndlr]. Is Online Video Ready for the $100 Million Advertising Challenge? What Alice Found — 15 jours de Digital Exploration par Curiouser.
Edito Curation est le buzzword marketing de ce début d'année.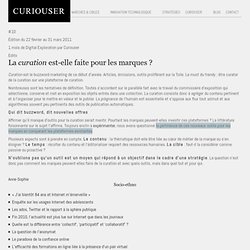 Articles, émissions, outils prolifèrent sur la Toile. Le must du trendy : être curator de la curation sur une plateforme de curation. Nombreuses sont les tentatives de définition. Toutes s'accordent sur le parallèle fait avec le travail du commissaire d'exposition qui sélectionne, conserve et met en exposition les objets entrés dans une collection. Publicité en ligne : la vidéo en pleine explosion - COMMUNICATION. Why Curation Is Important to the Future of Journalism. Josh Sternberg is the founder of Sternberg Strategic Communications and authors The Sternberg Effect.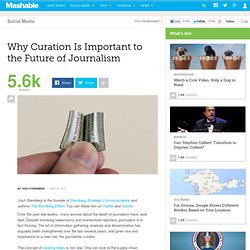 You can follow him on Twitter and Tumblr. Over the past few weeks, many worries about the death of journalism have, well, died.
General infos
Money.
---