Recipes
Kids Week: Frozen Pudding Pops! Nothing says kids and summer time like something frozen on a stick!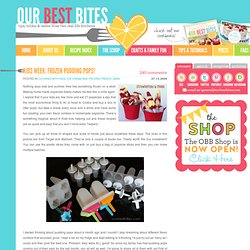 Making home made popsicles totally makes me feel like a child again. I realize that if your kids are like mine and eat 27 popsicles a day that the most economical thing to do is head to Costco and buy a box of otter pops, but take a break every once and a while and have some fun creating your own flavor combos in homemade popsicles. Berries 'n Cream Chia Pudding. I've just chosen the 3 winners of the cacao powder giveaway!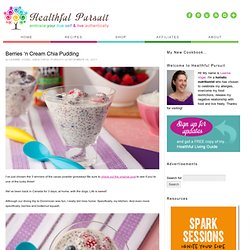 Be sure to check out the original post to see if you're one of the lucky three! We've been back in Canada for 3 days, at home, with the dogs. Life is sweet! Pineapple Mango Salsa. I Breathe...I'm Hungry...: Cheesy Cauliflower Tater Tots. So officially my week of low carb posts is over.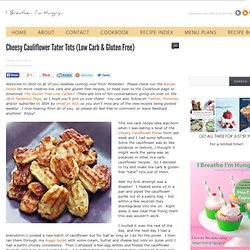 But I'll be posting low carb recipes for awhile since I got inspired and just kept cooking this week! One of my favorites is this cauliflower tater tots recipe! Review and Giveaway: Edible Cocktails. **Giveaway Closed 5/15/12** During the summer I buy most of my produce at Chicago's Green City Market—a fantastic farmer's market that connects local producers and farmers to chefs, restaurateurs, food organizations, and the public.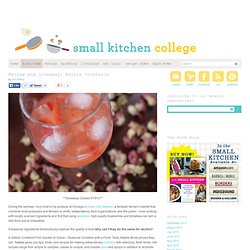 I love cooking with locally sourced ingredients and find that using seasonal, high-quality blueberries and tomatoes can turn a dish from dull to irresistible. If seasonal ingredients tremendously improve the quality of food why can't they do the same for alcohol? In Edible Cocktails:From Garden to Glass—Seasonal Cocktails with a Fresh Twist, Natalie Bovis proves they can. Shamrock Protein Milkshake! | Dashing Dish. In case you aren't aware, McDonald's has a thick and creamy green milkshake on their menu just for St.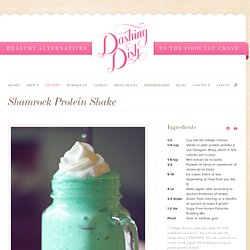 Patty's Day. A small size "Shamrock Shake" has 400 calories and 60 grams of sugar! Baked Raspberry Pancake | blogresipi.
---