Farmington Library
HomePage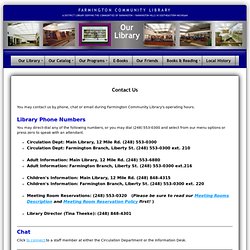 You may contact us by phone, chat or email during Farmington Community Library's operating hours. Library Phone Numbers
Contact us
Accordion Crimes by Annie Proulx. Proulx follows up her award-winning The Shipping News with another show stopper. At its heart is an accordion made by an Italian who immigrates to New Orleans with his young son in the 19th century.
Great Reads: Books to Go!—Fiction Titles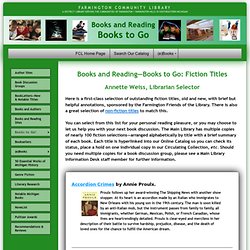 Community Calender
The Farmington Community Library is a District Library serving the two communities of Farmington and Farmington Hills in southeastern Michigan, with a combined population of 90,112 (official 2010 Census figure).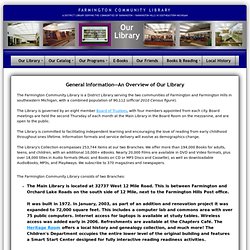 General Information
Web Resources
Yippy search engine partners with HighBeam Research and Encyclopedia.com | Backstories – The blog about trends behind the news and how to surface the best research from HighBeam Research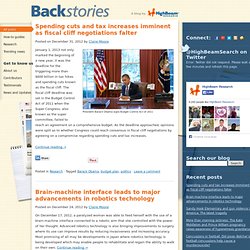 Spending cuts and tax increases imminent as fiscal cliff negotiations falter President Barack Obama signs Budget Control Act of 2011 January 1, 2013 not only marked the beginning of a new year, it was the deadline for the triggering more than $600 billion in tax hikes and spending cuts known as the fiscal cliff. The fiscal cliff deadline was set in the Budget Control Act of 2011 when the Super Congress, also known as the super committee, failed to reach an agreement on a comprehensive budget. As the deadline approached, opinions were split as to whether Congress could reach consensus in fiscal cliff negotiations by agreeing on a compromise regarding spending cuts and tax increases. Continue reading