Farmington Library
HomePage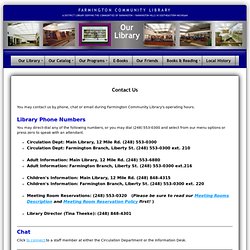 You may contact us by phone, chat or email during Farmington Community Library's operating hours. Library Phone Numbers You may direct-dial any of the following numbers, or you may dial (248) 553-0300 and select from our menu options or press zero to speak with an attendant. Circulation Dept: Main Library, 12 Mile Rd. (248) 553-0300 Circulation Dept: Farmington Branch, Liberty St. (248) 553-0300 ext. 210 Adult Information: Main Library, 12 Mile Rd. (248) 553-6880 Adult Information: Farmington Branch, Liberty St. (248) 553-0300 ext.216 Children's Information: Main Library, 12 Mile Rd. (248) 848-4315 Children's Information: Farmington Branch, Liberty St. (248) 553-0300 ext. 220 Meeting Room Reservations: (248) 553-0320 (Please be sure to read our Meeting Rooms Description and Meeting Room Reservation Policy first! ) Library Director (Tina Theeke): (248) 848-4301 Chat
Contact us
Accordion Crimes by Annie Proulx. Proulx follows up her award-winning The Shipping News with another show stopper. At its heart is an accordion made by an Italian who immigrates to New Orleans with his young son in the 19th century.
Great Reads: Books to Go!—Fiction Titles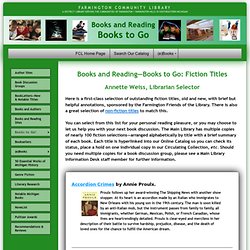 Community Calender
The Farmington Community Library is a District Library serving the two communities of Farmington and Farmington Hills in southeastern Michigan, with a combined population of 90,112 (official 2010 Census figure). The Library is governed by an eight member Board of Trustees, with four members appointed from each city. Board meetings are held the second Thursday of each month at the Main Library in the Board Room on the mezzanine, and are open to the public. The Library is committed to facilitating independent learning and encouraging the love of reading from early childhood throughout ones lifetime. Information formats and service delivery will evolve as demographics change.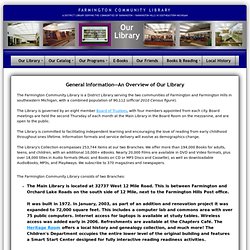 General Information
Web Resources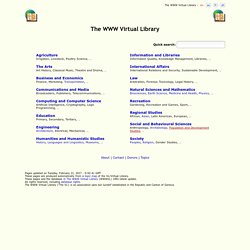 The WWW Virtual Library : en · es · fr · zh About | Contact | Donors | Topics Pages updated on Friday, August 16, 2013 - 7:48:42 GMT .These pages are produced automatically from a topic map of the VL/Virtual Library. These pages and the database © The WWW Virtual Library (WWWVL) 1991-latest update. All rights reserved, including database rights.
Yippy search engine partners with HighBeam Research and Encyclopedia.com | Backstories – The blog about trends behind the news and how to surface the best research from HighBeam Research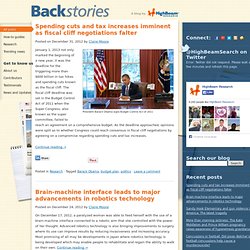 Spending cuts and tax increases imminent as fiscal cliff negotiations falter President Barack Obama signs Budget Control Act of 2011 January 1, 2013 not only marked the beginning of a new year, it was the deadline for the triggering more than $600 billion in tax hikes and spending cuts known as the fiscal cliff. The fiscal cliff deadline was set in the Budget Control Act of 2011 when the Super Congress, also known as the super committee, failed to reach an agreement on a comprehensive budget. As the deadline approached, opinions were split as to whether Congress could reach consensus in fiscal cliff negotiations by agreeing on a compromise regarding spending cuts and tax increases. Continue reading