Yipperbore
1.The Dead Sea Scrolls were discovered in eleven caves along the northwest shore of the Dead Sea between the years 1947 and 1956. The area is 13 miles east of Jerusalem and is 1300 feet below sea level. The mostly fragmented texts, are numbered according to the cave that they came out of. They have been called the greatest manuscript discovery of modern times. See a Dead Sea Scroll Jar.
25 Fascinating Facts About the Dead Sea Scrolls @ Century One Bookstore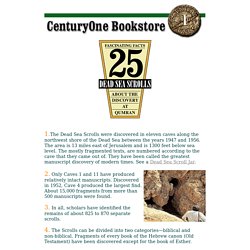 A sample Medicare card. There are separate lines for basic Part A and Part B's supplementary medical coverage, each with its own date. There are no lines for Part C or D, which are additional supplemental policies for which a separate card is issued.
Medicare (United States)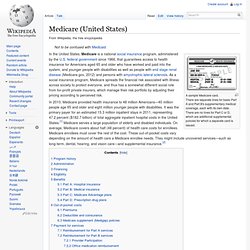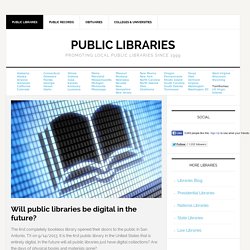 For the most part, libraries are a free service that many local residents enjoy, yet sometimes, overdue library books can result in fines, warrants or even jail time! People usually return a book before it's overdue to prevent increasing fines. Sometimes, however, certain events in life can get in the way of returning a library item on time. In Copperas Cove, Texas, a man named Jory Enck was recently jailed for failing to return an overdue GED study guide from three years ago!
Kool Group Research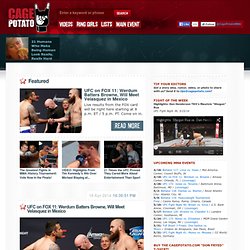 (Jessica Aguilar photo via Jeff Lopes/Kimurawear) Believe it or not, there's a World Series of Fighting event happening this weekend. WSOF 8 goes down this Saturday at the Seminole Hard Rock Hotel & Casino in Hollywood, Florida, featuring the twice-delayed fight between Anthony Johnson and Mike Kyle, and the promotion's inaugural lightweight title fight between undefeated banger Justin Gaethje and Richard "Who Da Fuq?" Patishnock. [Ed. note: Not his real nickname.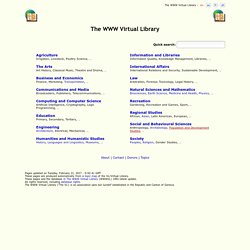 The WWW Virtual Library : en · es · fr · zh About | Contact | Donors | Topics Pages updated on Friday, August 16, 2013 - 7:48:42 GMT .These pages are produced automatically from a topic map of the VL/Virtual Library. These pages and the database © The WWW Virtual Library (WWWVL) 1991-latest update.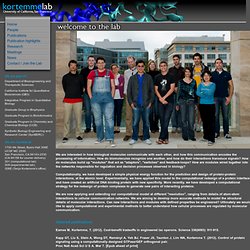 Kortemme Lab, UCSF | Home
We are interested in how biological molecules communicate with each other, and how this communication encodes the processing of information. How do biomolecules recognize one another, and how do their interactions transduce signals? How do molecules build up "modules" that act as "adaptors", "switches" and feedback-loops?