Breakfast
Chocolate Malt Waffles. This is the latest installment of my Powernap column.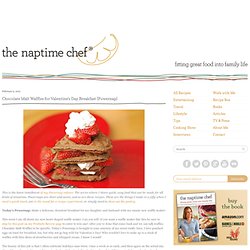 The series where I share quick, easy food that can be made for all kinds of situations. Powernaps are short and sweet, and so are these recipes. Breakfast recipes - Mr Breakfast .com - breakfast restaurants. Top Secret Recipes Revealed. Todd Wilbur, author of "Top Secret Restaurant Recipes 2," revealed his recipes for re-creating your favorite dishes at home.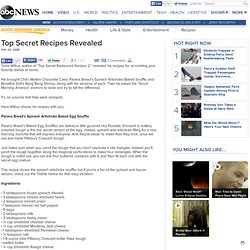 He brought Chili's Molten Chocolate Cake, Panera Bread's Spinach Artichoke Baked Souffle, and Bonefish Grill's Bang Bang Shrimp, along with his versions of each. Then he asked the "Good Morning America" anchors to taste and try to tell the difference. Cinnamon Bun Pie Pockets Recipe. This past Friday night was meant for celebrating.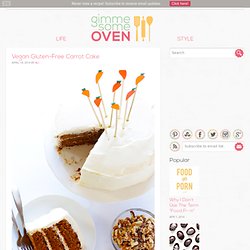 The weather was sit-out-on-the-deck-in-the-cool-evening-breeze perfection. Friends gathered from all around the city with chips and salsa and salads and popcorn and laughter and stories to share. The fire pit was aflame. The candles were lit on this (gluten free and vegan) carrot cake. Blame Dr. Cox. As I nervously awaited 80 Proof's mother's arrival to our new apartment and to taste my much-debated breakfast, 80 Proof's appendix decided to become inflamed and screamed to come out, according to Dr.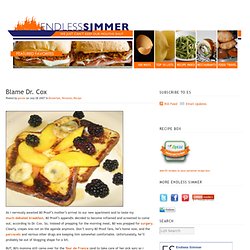 Cox. So, instead of prepping for the morning meal, 80 was prepped for surgery. Clearly, crepes was not on the agenda anymore. Don't worry 80 Proof fans, he's home now, and the percocets and various other drugs are keeping him somewhat comfortable. Unfortunately, he'll probably be out of blogging shape for a bit. Bacon, Egg and Cheese Cups | brunch recipes.
Apple pancakes. Am I glad I spilled out my frying pan angst to you all yesterday or what?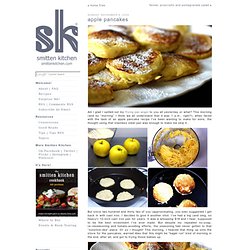 This morning (and by "morning" I think we all understand that it was 1 p.m., right?) , when faced with the task of an apple pancake recipe I've been wanting to make for eons, the thought using that stainless steel pan was enough to make me skip it. Apple cider doughnuts. I have never met a variety of deep-fried dough I didn't like.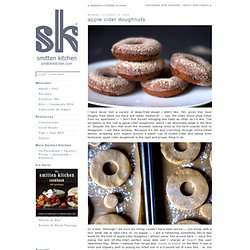 Yet, given that most doughy fried items out there are rather mediocre* — say, the chain donut shop steps from my apartment — I don't find myself indulging this habit as often as I'd like. The exception to this rule is apple cider doughnuts, which I am absolutely weak in the face of. Despite the fact that even the loveliest looking ones at the farm stands tend to disappoint, I eat them anyway. German pancakes. Saturday, December 2, 2006 Back when I was still getting daily "are you okay?"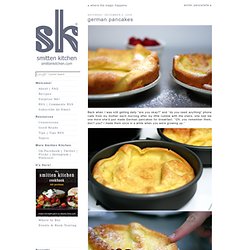 And "do you need anything" phone calls from my mother each morning after my little rumble with the stairs, she told me one more she'd just made German pancakes for breakfast. "Oh, you remember them, don't you? I made them once in a while when you were growing up." Well no, I don't. Pumpkin waffles. I warned you, didn't I?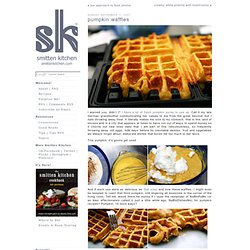 I have a lot of fresh pumpkin puree to use up. Call it my late German grandmother communicating her values to me from the great beyond, but I hate throwing away food. It literally makes me sick to my stomach, that in this land of excess and in a city that appears at times to have run out of ways to spend money so it churns out new ones daily that I am part of this ridiculousness, so frequently throwing away old eggs, milk days before its inevitable demise, fruit and vegetables we always forget about, elaborate dishes that bored me too much to eat twice.
This pumpkin, it's gonna get used. Where's Your Banana-Chocolate Milk Mustache? I hate milk.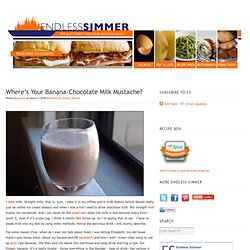 Straight milk, that is. Sure, I take it in my coffee and in milk shakes (which should really just be called ice cream shakes) and when I was a kid I used to drink chocolate milk. But straight milk makes me nauseated. Banana Bread & Banana Bread French Toast « Romancing the Stove. Mmmm…banana bread!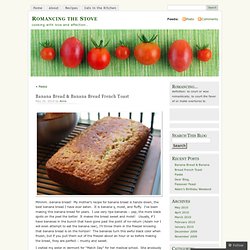 My mother's recipe for banana bread is hands-down, the best banana bread I have ever eaten. It is banana-y, moist, and fluffy. I've been making this banana bread for years. I use very ripe bananas – yep, the more black spots on the peel the better. Pear bread. A year and a half ago, an Op-Ed ruined bananas for me. Everyone knows in a kid's mind, there are only three fruits: apples, oranges and bananas. Apples grow in the fall. Oranges grow by grandma's house in Florida. Orange Croissant Stuffed French Toast. Fact – this is one of the best things I've ever eaten for breakfast. This statement is no way a reflection of my sweet ass cooking skills – rather an illustration of the fact that you MUST make this. Shocker – it comes from my girl Martha. Her Christmas Book is killer, and not just for the holidays, but year round recipes. Scrambled egg toast. Let me get this out of the way from the get-go: I cannot believe I'm discussing scrambled eggs today. I like to think of myself as somewhat particular in vetting out what I think is worthy or not worthy of your humble click over here, and I can't say that scrambled eggs would normally make the cut.
In fact, if you are happy with your scrambles, if you're pretty sure you've got that whole moving the egg around the pan thing down pat, I won't even be offended if you come back next time, when I figure out what to do with the four pounds of strawberries in my fridge. Zucchini, ham and ricotta fritters. I am the last person on the internet to join the Cute Overload train; I mean, I get it, it's cute. I love cute, you love cute, cute makes the birds sing and the sun shine and the world go round and tra-la-la. I get it. But man, oh man. Sometime in the last two weeks it hit me like a ten ton truck and people, the cute is killing me. I can't breathe sometimes, the cute is so strong.
---