Asian
1 c. brown rice, uncooked 1 tbsp. chicken bouillon granules 3 tbsp. vegetable oil, divided 1 c. thinly sliced carrots 3 green onions, including some tops, sliced 1 med. clove garlic, minced or dash garlic powder 1 lg. green pepper, sliced in thin strips 1 c. thinly sliced zucchini 1 c. thinly sliced fresh mushrooms 1/2 c. slivered almonds 4-5 tbsp. soy sauce Cook rice the day or morning before serving, adding chicken bouillon to water. Cool rice completely in refrigerator. Heat about 1 tablespoon oil in wok or skillet over high heat.
Stir-Fry Brown Rice With Vegetables
vegetable dumplings
In case I haven't broadcasted this loudly enough in the 114 entries prior to today, I tend to get a little obsessive in the kitchen when trying to find "perfect" recipes. "Perfect" is always some approximation of an ideal that got etched in my tastebuds in some other time and place — there's salted butter caramel (Paris), bretzel rolls (a Fresh Direct discovery), frisee with poached eggs (Balthazar, 2003) and one day soon, those truffles from La Maison du Chocolat, as my wee Valentine's Day supply has rapidly diminished. I know better than to try to go back to such a place and expect the same experiences time after time, but it doesn't mean I can't have warming fits of nostalgia when I find a lost flavor on my dinner plate. Case in point today is the steamed vegetable dumplings from Ollie's, a small chain of large Chinese restaurants up the west side of Manhattan.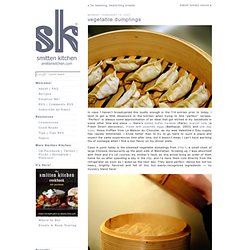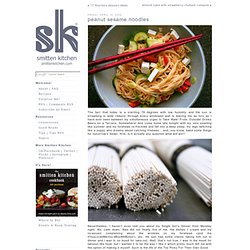 peanut sesame noodles
The fact that today is a startling 78 degrees with low humidity and the sun is streaming in wide ribbons through every windowed wall is leaving me as torn as I have ever been between my simultaneous urges to Take Walk! Frolic Outside! Drinks Beers on a Terrace, Somewhere! And come home late tonight with my skin smelling like summer and my forehead re-freckled and fall into a deep sleep, my legs twitching like a puppy who dreams about catching frisbees… and, you know, bake some things for tomorrow's Seder. Hrm, is it actually any question what will win? Nevertheless, I haven't even told you about my Single Girl's Dinner from Monday night.
Better than take-out because it's fresh, hot and crunchy right from your kitchen. This quick and simple two-step dish of small chicken bites are lightly battered & fried, then added to stir-fried seasoning of garlic, ginger (and hot chili, if desired), finished with a simple coating of soy sauce lightly sweetened wth a touch of sugar. Crispy Garlic-Ginger Chicken 2 generous main course servings with rice, or 4 servings if part of a multi course meal.
Once Upon a Plate: Crispy Garlic-Ginger Chicken, Asian Style