Site ImFusio WP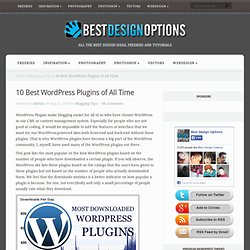 WordPress Plugins make blogging easier for all of us who have chosen WordPress as our CMS or content management system. Especially for people who are not good at coding, it would be impossible to add the features or interface that we want for our WordPress-powered sites both front-end and back-end without these plugins. That is why WordPress plugins have become a big part of the WordPress community. I, myself, have used many of the WordPress plugins out there.
10 Most Downloaded Wordpress Plugins of All Time
August 25th, 2010 Author: admin Category : ecommerce 0 Flares Twitter 0 Facebook 0 Google+ 0 StumbleUpon 0 Pin It Share 0 LinkedIn 0 inShare0 0 Flares × E-Commerce business is growing at a very fast pace. There are so many E-Commerce platforms available in the marketplace. The success of an E-Commerce store depends on the E-Commerce website design and development.
6 Handy and Useful E-Commerce Plugins for WordPress | Knowledge Base
Login
Login
nkuttler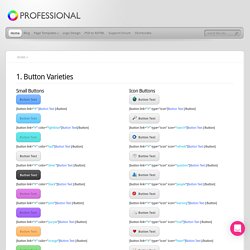 Button Text [button link="#" ]Button Text [/button] [button link="#" color="lightblue"]Button Text[/button] [button link="#" color="teal"]Button Text [/button] [button link="#" color="silver"]Button Text [/button]
| TheProfessional Theme
Link to Post : Lier les articles et pages de votre blog ! sur Geekeries.fr | Découvrir WordPress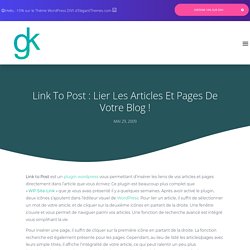 34 828 téléchargements - Version 1.0.2 Note : 4.5 /5 sur 40 avis. est un plugin wordpress vous permettant d'insérer les liens de vos articles et pages directement dans l'article que vous écrivez. Ce plugin est beaucoup plus complet que " " que je vous avais présenté il y a quelques semaines. Après avoir activé le plugin, deux icônes s'ajoutent dans l'éditeur visuel de WordPress.
Les blogs motorisés par Wordpress sont légion, tout comme les utilisateurs du réseau social Facebook. Alors pourquoi ne pas lier les deux et favoriser d'un côté la diffusion de votre graphe social et de l'autre doper votre profil Facebook ? Voici 7 astuces qui vous permettront de développer des synergies positives entre les deux applications. Le Lifestream est un élément social aujourd'hui omniprésent (sauf sur Innovablog me direz-vous !)
7 astuces pour lier votre blog Wordpress et votre profil Facebook