Productivity
Usenet Newsgroups Service, News Servers, Usenet Access - Giganew. Usenet Performance Tools - Giganews. Giganews Usenet users can utilize the tools provided to view the network path between Giganews' Usenet servers and their computer, search for their favorite newsgroup, or improve their overall performance with Giganews.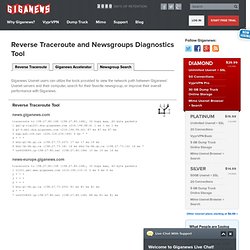 Giganews Accelerator™ Software The Giganews Accelerator is a software-based news proxy which will allow you to compress headers and enable 256-bit SSL encryption, regardless of whether or not SSL is supported natively by your news client. All authentication and commands are also encrypted, whether or not you have a Giganews SSL-enabled account, which allows you to help improve security avoid traffic shaping. Download the Giganews Accelerator to get the most out of your Usenet experience. Newsgroup Search. Smart Google Subscriber - SylvainAirCarnet. Smart Google Subscriber is a Greasemonkey userscript designed to help you subscribing to rss, atom and xml feeds in Google Reader.On each page you visit pointing to a rss feed (or xml, or atom, or rdf), the script displays a small icon in the upper left corner of the page telling you whether you already suscribed to the page feeds and which ones.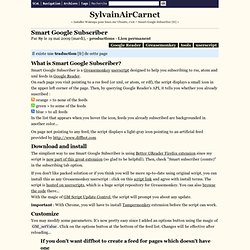 Il existe une traduction [fr] de cette page What is Smart Google Subscriber? Xbox 360 : Dante's Inferno : Meta Reviews. Login to RescueTime | RescueTime. Login to RescueTime | RescueTime. Visual Understanding Environment. VUE2 handout.pdf (application/pdf Object) Download. Platform Support License Information Full details of the license are available here.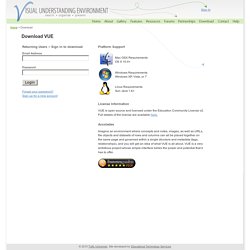 Accolades Imagine an environment where concepts and notes, images, as well as URLs, file objects and datasets of rows and columns can all be placed together on the same page and governed within a single structure and metadata (tags, relationships), and you will get an idea of what VUE is all about. VUE is a very ambitious project whose simple interface belies the power and potential that it has to offer. Tasks. Chrome Extensions. Googlewave. Community-powered support for RescueTime. Web.
Notebook Sharing.
---