Social Media
Tracker les boutons de partage des réseaux sociaux dans Google Analytics : pourquoi et comment faire ?
« Tweeter» , « +1″, « J'aime» , « Share» … Un peu partout fleurissent des boutons de partage sur les réseaux sociaux. Facebook, Twitter, LinkedIn et depuis peu Google+ dont la communauté grandit rapidement. Bien sûr, nous pouvons déjà connaître le nombre de tweets, de like, de +1, … en suivant le nombre qui s'affiche sur chaque bouton mais c'est loin d'être idéal pour comparer le comportement des internautes « socialement engagés» à celui de l'ensemble des visiteurs de notre site. C'est pour cela que Google a lancé le tracking social dans Analytics, en parallèle de son investissement massif dans les réseaux sociaux. Quelle est donc l'utilité de « tracker» dans Google Analytics les boutons de partage ? Et surtout comment implémenter ce tracking particulier ?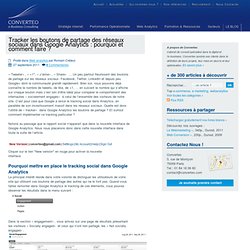 8 Words That Should Never Appear in Your Twitter Bio | BNET
5 méthodes pour avoir plus de followers sur Twitter
IKEA - opération tag sur facebook - une vidéo Actu et Politique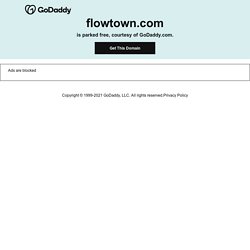 Everybody's Doing It: How Marketers Are Utilizing Social Media In 2010
"Social media is hot. And for businesses it represents a marketing opportunity that transcends the traditional middleman and connects companies directly with customers. This is why nearly every business on the planet – from giants like Starbucks and IBM to the local ice cream shop — are exploring social media marketing initiatives." That quote, from Michael Stelzner, the founder of SocialMediaExaminer.com , represents the contents of this graphic well.
De l'influence des médias sociaux ou comment GAP a failli s'écarter de ses consommateurs
Avez-vous suivi les multiples rebondissements de ce que je pourrais appeler un « LogoGate » pour le groupe de magasins de vêtements Gap, Inc. ? Avant de revenir brièvement sur cette histoire, voici un avant-goût de sa morale : plusieurs fonctions de l'entreprise, aussi bien marketing que communication, doivent désormais inclure dans leurs processus décisionnels leurs clients et consommateurs, sous peine de perdre prise avec le réel. Parce que le réel aujourd'hui s'est construit une tribune : les réseaux sociaux ! Tout commence donc avec l'initiative de la marque GAP qui décide de donner un coup de fraîcheur à son logo, via son agence de com Laird and Partners .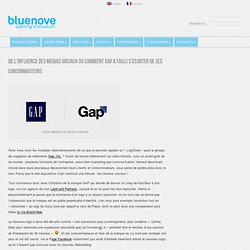 Digg: Five Years in 5 Minutes
Reflexion de Pierre JOXE sur les Blogs et Internet... - une vidé
This post originally appeared on the American Express OPEN Forum , where Mashable regularly contributes articles about leveraging social media and technology in small business. If you've already searched for some Fan Page inspiration and undertaken the task of building a custom landing page for your business's Facebook presence, you may now be in the market for some features that will further engage your fans. A nice feature of the modern social web is that it's modular. You can plug in and customize pre-made pieces of software (often created by other users or companies), and mix and match what works best for you without a lot of technical know-how.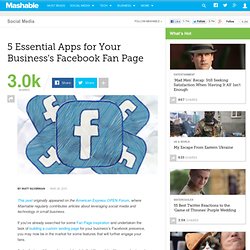 March 30, 2010 Adam Vincenzini says: Hi Cindy I use a few methods to collect post during the year.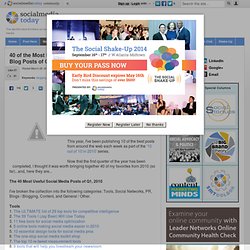 40 of the Most Useful Social Media and PR Blog Posts of Q1, 2010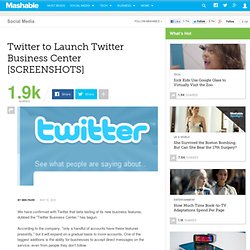 We have confirmed with Twitter that beta testing of its new business features, dubbed the "Twitter Business Center," has begun. According to the company, "only a handful of accounts have these features presently," but it will expand on a gradual basis to more accounts. One of the biggest additions is the ability for businesses to accept direct messages on the service, even from people they don't follow. We were able to grab exclusive information and screenshots of the Twitter Business Center thanks to our friend Dave Peck , a social media strategist at LSF Interactive /blogger at New Media Chatter . Here is an overview of some of the new features that businesses can expect to enjoy in the near future:
Twitter to Launch Twitter Business Center [SCREENSHOTS]