Web Dev
Top 10 CSS 3 forms tutorials - CatsWhoCode.com. HTML5 & CSS3 form HTML5 introduced useful new form elements as such as sliders, numeric spinners and date pickers.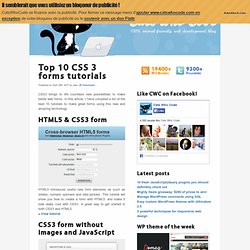 This tutorial will show you how to create a form with HTML5, and make it look really cool with CSS3. 10 éléments à intégrer dans des onglets FBML de votre Fan-Page Facebook. Bonjour à toutes et à tous.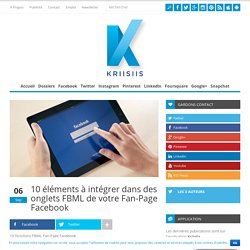 Cela faisait quelques semaines que je ne vous avais pas parlé de Fan-Pages Facebook sur Kriisiis.fr, et en particulier des onglets personnalisables en FBML. Je souhaiterais aujourd'hui vous proposer quelques fonctionnalités que l'on peut intégrer facilement dans ses pages, grâce à l'application Static FBML. Si vous n'utilisez pas encore cette application, voici un petit tutoriel détaillant les différentes étapes d'installation, ou encore un autre, qui a le mérite d'être illustré et donc probablement plus clair (mais en anglais). Design Your Facebook Fan Page With Pagemodo's WYSIWYG Editor. Using the WYSISYG editor, you can add images and text, select your font, background colours and more.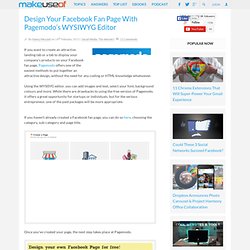 While there are drawbacks to using the free version of Pagemodo, it offers a great opportunity for startups or individuals, but for the serious entrepreneur, one of the paid packages will be more appropriate. If you haven't already created a Facebook fan page, you can do so here, choosing the category, sub-category and page title. [TLK] Like Button. Like button XFBML tutorial Full: Like-button + Language First, set up a new application: 1.
34 Free & Beautiful xHTML/CSS Templates. NOTE: This post was originally posted on January 12th 2011.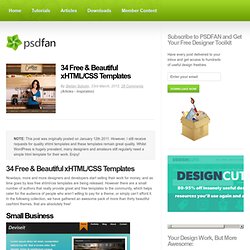 However, I still receive requests for quality xhtml templates and these templates remain great quality. Whilst WordPress is hugely prevalent, many designers and amateurs still regularly need a simple html template for their work. Enjoy! 34 Free & Beautiful xHTML/CSS Templates Nowdays, more and more designers and developers start selling their work for money, and as time goes by less free xhtml/css templates are being released.
HOW TO: Make the Most of TextMate. The Web Development Series is supported by Rackspace, the better way to do hosting.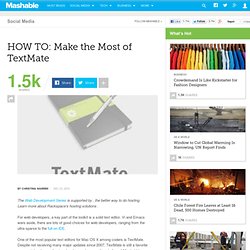 Learn more about Rackspace's hosting solutions here. For web developers, a key part of the toolkit is a solid text editor. Vi and Emacs wars aside, there are lots of good choices for web developers, ranging from the ultra-sparse to the full-on IDE. One of the most popular text editors for Mac OS X among coders is TextMate.
Despite not receiving many major updates since 2007, TextMate is still a favorite amongst developers, front-end coders and even writers (a few of Mashable's bloggers use TextMate to compose first drafts of blog posts).
---