Etudes/données
Aux sources de la culture geek » Article » OWNI, Digital Journalism. Autrefois marginalisée, la culture Geek est rapidement rentrée dans les normes.
Décryptage d'une mode souvent méconnue. J'en parlais il y a quelques jours : le geek est devenu, depuis quelques années, une figure d'une force et d'une légitimité peu commune. Kinetic Typography: Generation and Application of Affective, Animated Text. Ï»¿ Zhiquan Yeo zyeo@cs.cmu.edu Human-Computer Interaction Institute, Carnegie Mellon University Introduction Text in its written form is less expressive than the spoken word or film, as it loses emotional content and paralinguistic cues such as pitch, tone of voice and even body language.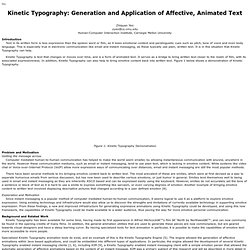 How Videos Go Viral [INFOGRAPHIC] In the past three weeks, almost 10,000 Facebook users have "liked" this brief clip of the world's cutest dog playing with a chew toy.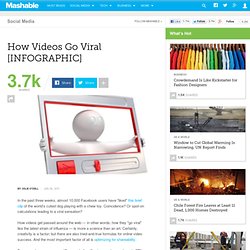 Coincidence? Or spot-on calculations leading to a viral sensation? How videos get passed around the web — in other words, how they "go viral" like the latest strain of influenza — is more a science than an art. Certainly, creativity is a factor; but there are also tried-and-true formulas for online video success. Facebook Statistics by country. Royal Pingdom » Internet 2010 in numbers. Posted in Tech blog on January 12th, 2011 by Pingdom What happened with the Internet in 2010?
How many websites were added? How many emails were sent? How many Internet users were there? This post will answer all of those questions and many, many more.
---