Culture + science
Neuroanthropology. Mind Hacks. Brain & Behavior. Neuroskeptic. Herd - the hidden truth about who we are. So it is 10 years ago this week that I first formally presented what I called the HERD hypothesis in written form (see above) at the Market Research Society in Birmingham (for which incidentally I shared the Best New Thinking Prize).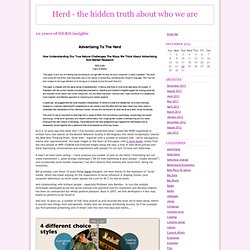 Since then - together with a number of brilliant folk - we've managed to evolve and "operationalise" the basic insight at the heart of this paper, with 2 more books, prizes from the nice people at WPP, ESOMAR and Emerald Insight along the way, a host of well-liked articles and some fascinating conversations and experiences with people I'm not sure I'd have met otherwise. It hasn't all been plain sailing - I have endured any number of pats on the head ("interesting but not really mainstream"), some strange challenges ("OK for kids marketing & poor people - maybe abroad? ") and occasionally some hostile responses ("we don't believe that monkey shit round here" being my favourite).
The Social Atom. Brains On Purpose™ Since the past is usually an important factor in a dispute, understanding the process of memory can be helpful to anyone involved in the dispute and its resolution.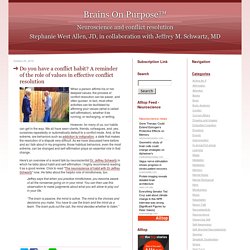 Although the malleability of memory is not a new topic here at this blog, a reminder can be of value. So here's a news release from Northwestern University. Your memory is no video camera; it edits the past with present experiences February 4, 2014 | by Marla Paul. ZERO ANTHROPOLOGY.
ICCI Home.
---