Culture + science
Neuroanthropology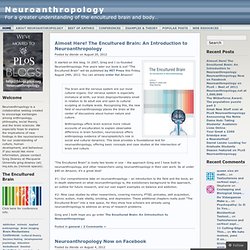 Since I am now at the University of South Florida, I can finally mentor some graduate students! I encourage people to apply to the graduate program in anthropology here. USF accepts students at both the masters and the Ph.D. level. If you're going to start at the Ph.D. level, your masters does not have to be in anthropology.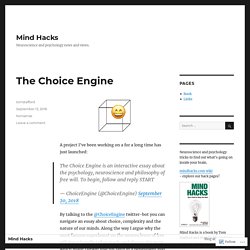 The headlines BBC: Truth or lie – trust your instinct, says research British Psychological Society: Our subconscious mind may detect liars Daily Mail: Why you SHOULD go with your gut: Instinct is better at detecting lies than our conscious mind The Story Researchers at the University of California, Berkeley, have shown that we have the ability to unconsciously detect lies, even when we're not able to explicitly say who is lying and who is telling the truth. What they actually did The team, led by Leanne ten Brinke of the Haas School of Business, created a set of videos using a "mock high-stakes crime scenario".
For years, I and others have been arguingthat the current system of publishing science is broken. Publishing and peer-reviewing work only after the study's been conducted and the data analysed allows bad practices - such as selective publication of desirable findings, and running multiple statistical tests to find positive results - to run rampant. So I was extremely interested when I received an email from Jona Sassenhagen, of the University of Marburg, with subject line:Unilaterally raising the standard. Sassenhagen explained that he's chose to pre-register a neuroscience study on a public database, the German Clinical Trials Register (DRKS). His project, Alignment of Late Positive ERP Components to Linguistic Deviations ("P600"), is designed to use EEG to test whether the brain generates a distinct electrical response - the P600 - in response to seeing grammatical errors.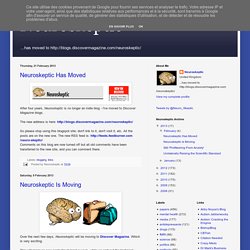 Herd - the hidden truth about who we are
So it is 10 years ago this week that I first formally presented what I called the HERD hypothesis in written form (see above) at the Market Research Society in Birmingham (for which incidentally I shared the Best New Thinking Prize). Since then - together with a number of brilliant folk - we've managed to evolve and "operationalise" the basic insight at the heart of this paper, with 2 more books, prizes from the nice people at WPP, ESOMAR and Emerald Insight along the way, a host of well-liked articles and some fascinating conversations and experiences with people I'm not sure I'd have met otherwise. It hasn't all been plain sailing - I have endured any number of pats on the head ("interesting but not really mainstream"), some strange challenges ("OK for kids marketing & poor people - maybe abroad?") and occasionally some hostile responses ("we don't believe that monkey shit round here" being my favourite).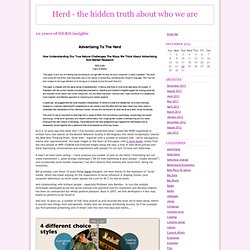 The Social Atom
Stanley Fish has written an interesting essay in today's New York Times. As he points out, alongside a spate of recent books attacking religion and its growing influence, publishing houses seem to be issuing defenses of liberal political organization, such as Paul Starr's Freedom's Power: The True Force of Liberalism. I think I could count my Social Atom as taking a similar position, arguing for government based on the maximum use of science, knowledge and open discussion based on real understanding, rather than ideology. But as Fish argues, and I think he is right, there is no way to defend the supremacy of that kind of "liberal" government over illiberal government (theocracy, dictatorship, or anything else) on purely logical grounds. Commenting on Starr, he writes that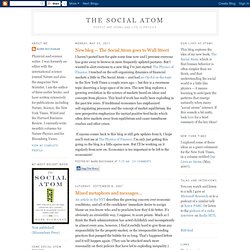 Brains On Purpose™
Since the past is usually an important factor in a dispute, understanding the process of memory can be helpful to anyone involved in the dispute and its resolution. Although the malleability of memory is not a new topic here at this blog, a reminder can be of value. So here's a news release from Northwestern University. Your memory is no video camera; it edits the past with present experiences February 4, 2014 | by Marla Paul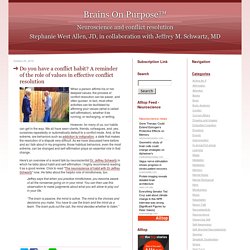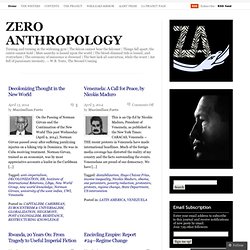 Decolonizing Thought in the New World On the Passing of Norman Girvan and the Continuation of the New World This past Wednesday (April 9, 2014), Norman Girvan passed away after suffering paralyzing injuries on a hiking trip in Dominica. He was in Cuba receiving treatment. Norman Girvan, trained as an economist, was by most appreciative accounts a leader in the Caribbean […] Venezuela: A Call for Peace, by Nicolás Maduro This is an Op-Ed by Nicolás Maduro, President of Venezuela, as published in the New York Times: CARACAS, Venezuela — THE recent protests in Venezuela have made international headlines.
Details Category: Olivier's blog Published on Thursday, 23 May 2013 09:58 Written by Olivier Morin A recent paper in Science allegedly showing conformist imitation in vervet monkeys is raising criticism. The study, by Érica van de Waal, Christelle Borgeaud, and Andrew Whiten, shows that vervet monkeys reproduce the arbitrary food preferences that are exhibited in their social group.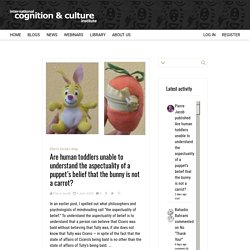 ICCI Home