Weird stuff
Ana Somnia - lights out!
Baaa
4chan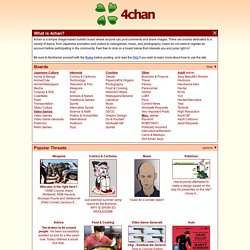 4chan is a simple image-based bulletin board where anyone can post comments and share images. There are boards dedicated to a variety of topics, from Japanese animation and culture to videogames, music, and photography. Users do not need to register an account before participating in the community. Feel free to click on a board that interests you and jump right in!
the revolving internet, constant dullaart 2010
nanaca crash - the game
Scanwiches
A Serbian Film
Jack Sparrow: Me? I'm Dishonest, And A Dishonest Man You Can Always Trust To Be Dishonest. Honestly. It's The Honest Ones You Want To Watch Out For, Because You Can Never Predict When They're Going To Do Something Incredibly... Stupid.
The Impatient Pirate of Cornelia Street