School
How To Write an Appendix—The Complete Idiot's Quick Guide.
Studying Tips. Research Paper vs. Term Paper. A term paper is a written academic paper that needs to demonstrate the acquired essential skills and knowledge in the subject matter.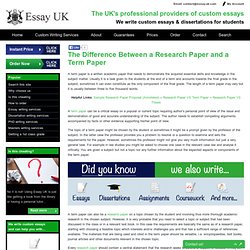 Usually it is a task given to the students at the end of a term and accounts towards the final grade in the subject, sometimes it can even constitute as the only component of the final grade. The length of a term paper may vary but it is usually between three to five thousand words. Helpful Links: Sample Research Paper Proposal (Annotated) -- Research Paper VS Term Paper -- Research Paper VS Thesis A term paper can be a critical essay on a popular or current topic requiring author's personal point of view of the issue and demonstration of good and accurate understanding of the subject.
---