In
Bacteria engineered to turn carbon dioxide into liquid fuel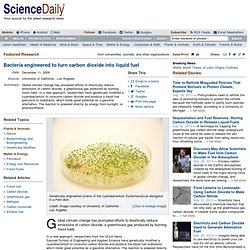 Dec. 11, 2009 — Global climate change has prompted efforts to drastically reduce emissions of carbon dioxide, a greenhouse gas produced by burning fossil fuels. In a new approach, researchers from the UCLA Henry Samueli School of Engineering and Applied Science have genetically modified a cyanobacterium to consume carbon dioxide and produce the liquid fuel isobutanol, which holds great potential as a gasoline alternative. The reaction is powered directly by energy from sunlight, through photosynthesis. The research appears in the Dec. 9 print edition of the journal Nature Biotechnology and is available online.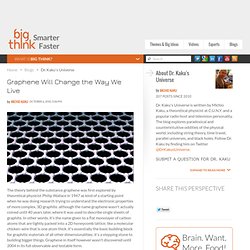 Graphene Will Change the Way We Live | Dr. Kaku's Universe
The theory behind the substance graphene was first explored by theoretical physicist Philip Wallace in 1947 as kind of a starting point when he was doing research trying to understand the electronic properties of more complex, 3D graphite. although the name graphene wasn't actually coined until 40 years later, where it was used to describe single sheets of graphite. In other words, it's the name given to a flat monolayer of carbon atoms that are tightly packed into a 2D honeycomb lattice; like a molecular chicken-wire that is one atom thick. It's essentially the basic building block for graphitic materials of all other dimensionalities; it's a stepping stone to building bigger things. Graphene in itself however wasn't discovered until 2004 in its full observable and testable form.
Extinct ibex is resurrected by cloning
It has also increased the possibility that it will one day be possible to reproduce long-dead species such as woolly mammoths and even dinosaurs. Dr Jose Folch, from the Centre of Food Technology and Research of Aragon, in Zaragoza, northern Spain, led the research along with colleagues from the National Research Institute of Agriculture and Food in Madrid. He said: "The delivered kid was genetically identical to the bucardo. In species such as bucardo, cloning is the only possibility to avoid its complete disappearance." Pyrenean ibex, which have distinctive curved horns, were once common in northern Spain and in the French Pyrenees, but extensive hunting during the 19th century reduced their numbers to fewer than 100 individuals. They were eventually declared protected in 1973, but by 1981 just 30 remained in their last foothold in the Ordesa National Park in the Aragon District of the Pyrenees.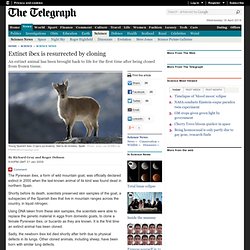 In mice, reactivating the enzyme telomerase led to the repair of damaged tissues and reversed the signs of ageing. Photograph: Robert F. Bukaty/AP Scientists claim to be a step closer to reversing the ageing process after rejuvenating worn out organs in elderly mice. The experimental treatment developed by researchers at the Dana-Farber Cancer Institute, Harvard Medical School, turned weak and feeble old mice into healthy animals by regenerating their aged bodies.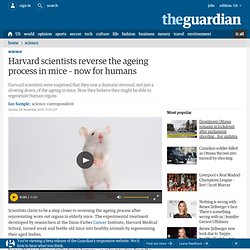 Harvard scientists reverse the ageing process in mice – now for humans | Science
Spray-on liquid glass is about to revolutionize almost everything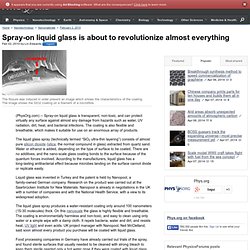 The fissure was induced in order present an image which shows the characteristics of the coating. The image shows the SiO2 coating on a filament of a microfibre. (PhysOrg.com) -- Spray-on liquid glass is transparent, non-toxic, and can protect virtually any surface against almost any damage from hazards such as water, UV radiation, dirt, heat, and bacterial infections. The coating is also flexible and breathable, which makes it suitable for use on an enormous array of products. The liquid glass spray (technically termed "SiO 2 ultra-thin layering") consists of almost pure silicon dioxide ( silica , the normal compound in glass) extracted from quartz sand. Water or ethanol is added, depending on the type of surface to be coated.
Antihydrogen atoms were trapped in a magnetic field Matter and antimatter annihilate each other on contact "It's taken us five years to get here," says Professor Jeffrey Hangst CERN's next ambition is to create a beam of antimatter (CNN) -- Scientists have captured antimatter atoms for the first time, a breakthrough that could eventually help us to understand the nature and origins of the universe. Researchers at CERN, the Geneva-based particle physics laboratory, have managed to confine single antihydrogen atoms in a magnetic trap.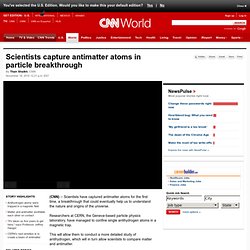 Scientists capture antimatter atoms in particle breakthrough