Action script
Animación Flash con Tweener | Activ
Bienvenidos a la quinta entrega de nuestra serie de artículos sobre Animación en Flash con ActionScript; anteriormente hemos hablado acerca de los motores de animación TweenLite, GTween y TweenCube.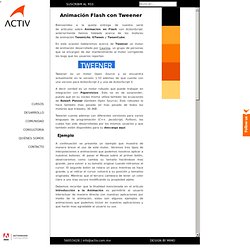 tweener - A class for creating tweens in actionscript 2 and 3 - because there's infinity between 0 and 1.
Tweener (caurina.transitions.Tweener) is a Class used to create tweenings and other transitions via ActionScript code for projects built on the Flash platform. Three different official versions of Tweener are available for download: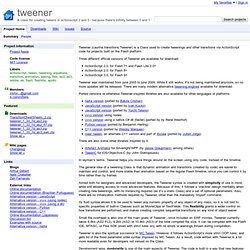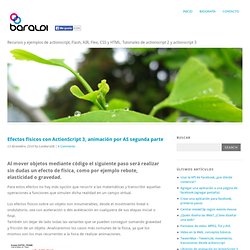 Al mover objetos mediante código el siguiente paso será realizar sin dudas un efecto de física, como por ejemplo rebote, elasticidad o gravedad.
Efectos físicos con ActionScript 3, animación por AS segunda parte | LeoBaraldi - Ejemplos Flash, Ejemplos actionscript, Tutoriales Flash, Tutoriales actionscript, actionscript 3, curso de actionscript
Differently from "extensions", you don't usually install anything when using classes. You just download them and place them somewhere where you can use them.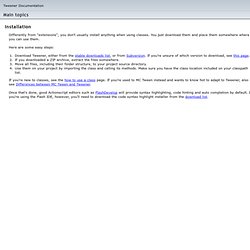 Tweener Documentation and Language Reference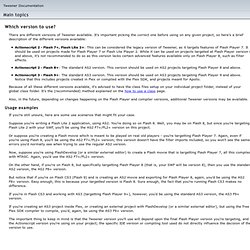 Tweener Documentation and Language Reference
There are different versions of Tweener available. It's important picking the correct one before using on any given project, so here's a brief description of the different versions available: Actionscript 2 - Flash 7+, Flash Lite 2+: This can be considered the legacy version of Tweener, as it targets features of Flash Player 7.
Tweener Documentation and Language Reference
Animaciones dinámicas con clase Tween de Actionscript 2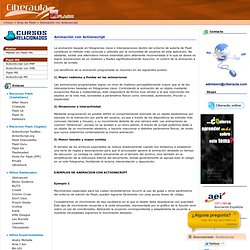 La animación basada en fotogramas clave e interpolaciones dentro del entorno de autoría de Flash constituye el método más conocido y utilizado por la comunidad de usuarios de esta aplicación. No obstante, existe una alternativa menos extendida pero altamente recomendada si lo que se desea es lograr animaciones de un realismo y fluidez significativamente mayores: el control de la animación a través de scripts.
Animación con Actionscript
Animación de clips con ActionScript. La clase Tween. - tutoriales-flash.com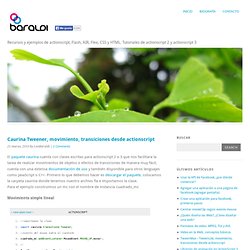 Caurina Tweener, movimiento, transiciones desde actionscript | LeoBaraldi - Ejemplos Flash, Ejemplos actionscript, Tutoriales Flash, Tutoriales actionscript, actionscript 3, curso de actionscript
El paquete caurina cuenta con clases escritas para actionscript 2 o 3 que nos facilitara la tarea de realizar movimientos de objetos o efectos de transiciones de manera muy fácil, cuenta con una extensa documentación de uso y también disponible para otros lenguajes como javaScript o C++.