Photo Blog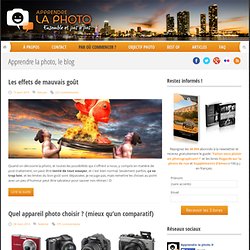 Les effets de mauvais goût Quand on découvre la photo, et toutes les possibilités qui s'offrent à nous, y compris en matière de post-traitement, on peut être tenté de tout essayer, et c'est bien normal. Seulement parfois, ça va trop loin, et les limites du bon goût sont dépassées. Je ne juge pas, mais remettre les choses au point avec un peu d'humour peut être salvateur pour sauver nos rétines ! :D Lire la suite Quel appareil photo choisir ?
Hello! If you are new here, you may want to subscribe to RSS feed . Do leave a comment, and Follow me onTwitter. Thanks for visiting! The Genius G-Shot HD575T camcorder is capable of shooting Full HD 1080p/30fps video in H.264 format with the 5.0-megapixel CMOS sensor.
ApertureDaily - Daily Digital Camera News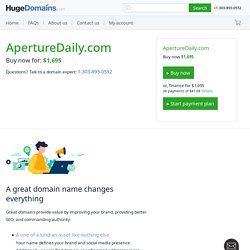 Canon EOS Photo Blog
20 avril 2014 par Damien 0 Commentaires Comment une photo a changé le destin de ce photographe – PhototrendOffice 365 et Creative Cloud, des nuages qui peuvent coûter cher , le cas Adobe – MacGenerationSnæland – Le carnet de voyage en Islande – Retour du mondeL'histoire de Bliss, la photo la plus connue au monde – SympaticoAttention aux « fauxtographes » – Granby ExpressY a-t-il encore quelque chose à photographier à New York ? – Our Age is 13Google permet de faire la mise au point plus tard sur Android avec Lens Blur – PetaPixelFlickr a mis à jour son application sur iPhone et Android avec un redesign complet – Blog FlickrDropbox met la main sur Loom, service de stockage photo – ZdNetL'exil doré des Rolling Stones vu par le photographe Dominique Tarlé – SlateSony A6000 : une « petite merveille » – DxOMarkLe web fait la chasse aux retouches – Libération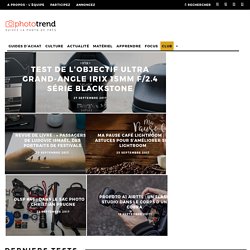 Photographe professionnel - Page 2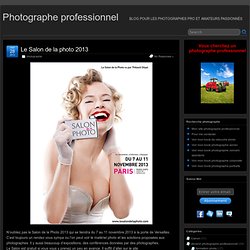 Quelques questions Pascal de COULEUR-ICC, spécialiste de la gestion de couleurs… Bonjour Pascal. Peux tu te présenter en quelques lignes ?
- Blog Photo et Vidéo HDSLR // Obturations.com par Merwen BA