Xlemonheadx
Natalie
**--KID CUDI---** i (heart) my XBOX. hella yeah :) im pretty chill so get att mee. ;)
Reddit: the voice of the internet -- news before it happens.
Cool stuff
Crafts. Links. Bienvenue sur Facebook. Games. Interactive. Heart Beat, page 1 of 425 : Scribbls. Sketchfu. Important stuff. Bloomin' Handmade Greeting Cards You Can Plant. You've might have seen seed paper recently.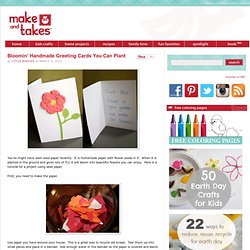 It is homemade paper with flower seeds in it. When it is planted in the ground and given lots of TLC it will bloom into beautiful flowers you can enjoy. Here is a tutorial for a project using seed paper. First, you need to make the paper. Use paper you have around your house.
DeviantART: where ART meets application! 5 Mario Kart Police Reports.
---