Organic Architecture, Sustainable Lifestyle, Permaculture
Ice Energy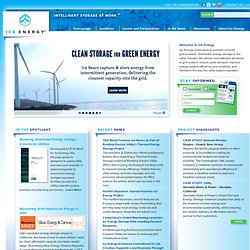 CASE STUDY: National Retailer Staples - Howell, New Jersey Staples, the world's largest retailer of office products, is committed to making its environmental footprint as small as possible.
I Love Cob! Photo Gallery
First Earth | Photos
Wild Wild South
Earthship Biotecture Sustainable Green Buildings - earthship.com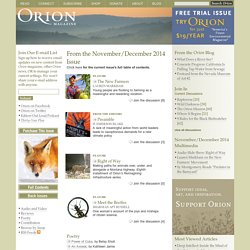 Orion Magazine - nature / culture / place
Click here for the current issue's full table of contents. Media & The Arts Red, Black, and Green By Ross Gay
Articles from Permaculture Activist
Self Sufficiency Guides for living a more Self Sufficient Life |
Ten Acres Enough Edmund Morris had dreamed for many years of moving to the country, reading all he could about farming and taking a keen interest in anything agricultural. His city life had had its ups and downs and although close to bankruptcy on more than one occasion he had managed to settle his affairs and resolved to quit the city before things got any worse "the whole business horizon seemed full of coming storms, which burst successively with desolating severity".
Institute
"What Time Is It?" – Lessons from history for a sustainable future – Feb 12 in Seattle By Robert Gilman on December 18, 2013 If you are (or will be) in the Seattle area, save the date — 6:30 pm on Feb 12, 2014 — for the first of the Foundation Stones presentation series. You can register for the event at contextinst.brownpapertickets.com.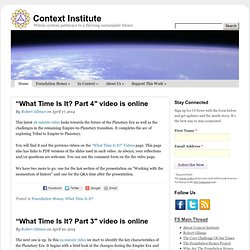 Anyone who is into cold climates, freezing and the like knows that fats are of absolute importance. If you suffer from a too high fat percentage I can advice a lot of underdressed activities at any time of the year, within safe boundaries of course. During the summer you can get away with a diet quite high on carbohydrates, with just a little protein and fat. However at this time the latter becomes increasingly important. If I eat too much carbs, especially sugary fruits, I freeze a lot easier than on fatty meat. In my area, the primary source of fat for the winter, the bear is no longer available unfortunately, but there are still solutions about.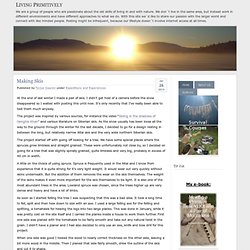 Living Primitively
Hello and Welcome to our Eco Yoga Farm! Below is explanation about how to arrive from the airport. If you would like we can provide an escort, which will be an additional 50 soles. Please let us know if you would like this service, otherwise we would be happy to answer any other questions you may have.
Eco Truly Park -Volunteer Program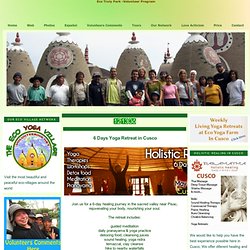 Custom Green Living Home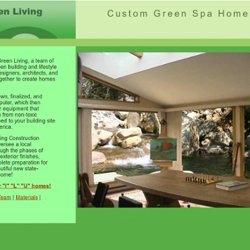 to Custom Green Living, a team of highly experienced green building and lifestyle innovators, thinkers, designers, architects, and contractors working together to create homes of the future. A custom design is drawn, finalized, and scanned in to our computer, which then communicates with our equipment that precisely cuts the walls from non-toxic materials. This is shipped to your building site anywhere in North America.
Grist | Environmental News, Commentary, Advice
PERMACULTURE DESIGN at TIR PENRHOS ISAF Chris Dixon. Contact me see Latest news and updates for recent details, This site provides information on the permaculture holding, Tir Penrhos Isaf, near Dolgellau in Gwyedd, Cymru (Wales) which I share with my wife, Lyn. We have been working at Penrhos (or Benthros, as it is known locally) since 1986 and been living here since February 1992 when we gained temporary planning permission from the Snowdonia National Park. Over that time we have continued to develop our permaculture design for the holding through the practical application of the ethics and principles of permaculture.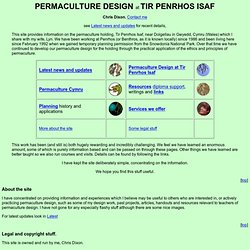 penrhos home page permaculture design and sustainable developmen