Cooking
Thank you! We've got you signed up. Why not go all the way? If you haven't already, become a full member to get access to our Secret Stash.
Recipe of the Day, Great Recipes, Easy Cooking Recipes - Tablesp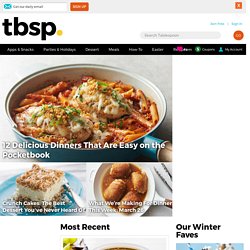 My Colombian Recipes and International Flavors
Recipes, Food, Cooking, Holiday Recipes & Free Recipes @ SheKnow
Chicken breasts in a creamy Dijon mustard sauce with shallots. Healthy green smoothie with banana, pineapple, spinach, and Greek yogurt. Black-eyed Pea Salsa with green chiles, onions, red bell pepper, served with jack cheese quesadillas How to make gremolata, a savory condiment of parsley, garlic, and lemon zest.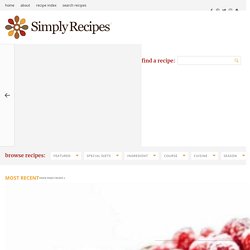 Simply Recipes Food and Cooking Blog
picky cook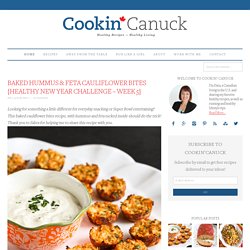 Cookin' Canuck
Work some whole grains into your lunch with this make-ahead toasted barley and shrimp salad recipe. It's healthy, tasty and packed with fiber! The only way I can avoid the eat-everything-in-the-fridge trap during the lunch hour is by having a plan. Okay, that pretty much applies to the whole day.
Manjula's Kitchen | Indian Vegetarian Recipes
Veganize It...Don't Criticize It! [Vegan Recipes]
I believe that the majority of my readers are under the impression that I must eat like a gourmand on a daily basis. Let me dispel this notion immediately: I am one very apathetic home chef. For example, tonight for dinner I threw some ramen noodles, mushrooms, spinach, vegan chicken and no chicken broth base into a pot and called it a night.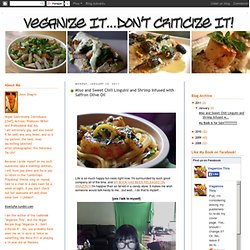 Foodbuzz - Foodbuzz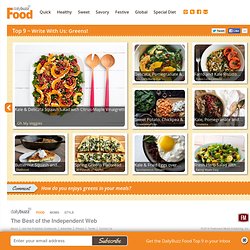 Top 9 ~ Write With Us: Greens! Kale & Delicata Squash Salad… with Citrus-Maple Vinaigrette Oh My Veggies
Food & Wine Magazine | Recipes, Menus, Chefs, Wine, Cooking, Hol
Aapplemint | A food and photography blog
First published in August 2007, this updated ingredient post features new photos, links, and tweaks to the recipe. Though it's been many years since I enjoyed moros y cristianos in Cuba, this version of black beans and rice, from one of Havana's most famous restaurants, remains my favorite, and it's perfect for Meatless Monday. Way back when -- we're talking decades ago -- my best friend Joyce had a boyfriend named Tom, who had a series of uninspired jobs to support his dream of hosting a public-radio show about military history.
The Perfect Pantry: Spanish/South American/Latino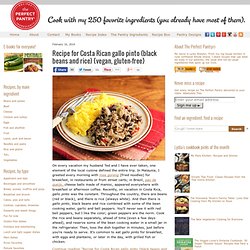 Eat Healthy, Nutritious & Delicious Food - Eat Better America
Food Network - Easy Recipes, Healthy Eating Ideas and Chef Recip
Kitchen Therapy - Gluten Free Blog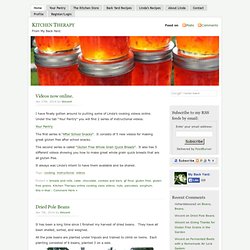 *Whew* I finally did it–turned your Wonder Bun idea into a Wonder Tortilla! Here's the recipe (done in a 1000W microwave with Corelle dinner plate) Makes 1 taco or fajita-sized tortilla (still working on the big boy): 1T. chia meal 1T. flax meal 2 T. almond meal 2 t. tapioca starch 1 T. olive oil (do not use coconut oil or lard) 1 egg white (no yolk–the bottom of the tortilla becomes messy) 1T. water 1/2 t. baking powder 1/2 t. cocoa powder (optional–for color only) A total of 1 t. of spices/herbs of choice ~~Big "T" means tablespoon, and little "t" means teaspoon~~ Combine flours and powders in a cereal bowl. Stir to combine, then set aside.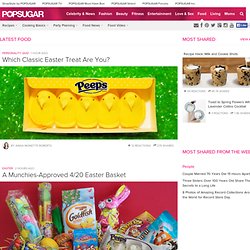 Recipes, Menus, Food & Wine | YumSugar
Latest Food Giada de Laurentiis Giada De Laurentiis Previews Her New Restaurant at Sundance What's Your Reaction?000000
Find the Best Recipes, Dinner Ideas, and Menus
TasteSpotting | a community driven visual potluck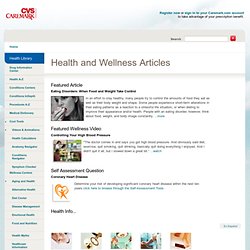 How to Keep Your Home Clean, But Not Toxic Keeping a clean house is a necessary step in providing a safe living environment. Through proper cleaning and disinfection in the kitchen, for example, contact with disease-causing bacteria from raw or undercooked meat, shellfish, fish, and eggs can be reduced. But the products we use to clean the house can also have unintended health consequences. ...more Reading the Food Label In the grocery store, you have many choices in front of you.
Food and Nutrition | Caremark Health Resources
CookEatShare - Easy Recipes and Cooking Tips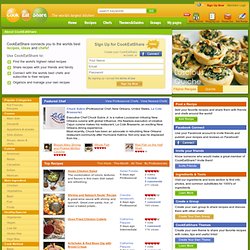 Chuck Subra (Professional Chef, New Orleans, United States, La Cote Brasserie) Executive Chef Chuck Subra Jr. is a native Louisianan infusing New Orleans cuisine with global influence. His flawless execution of creative Cajun cuisine makes his restaurant, La Cote Brasserie, an exciting New Orleans dining experience.Most recently, Chuck has been an advocate in rebuilding New Orleans' restaurant community after Hurricane Katrina. Not only was he displaced from his…