Street Mkg
Agence OVNY,la communication OPEN Créative
Carlsberg puts friends to the test Imagine this: it's the middle of the night and your best friend calls for help. How far would you go to get him off the hook? A new social video provides a comical twist to the well-known tag line 'That calls for a Carlsberg' through a series of real life set-ups caught on cameras. Mobli chooses Duval Guillaume Modem Mobli is a mobile photo and video-sharing app.
Duval Guillaume Modem
eurorscg360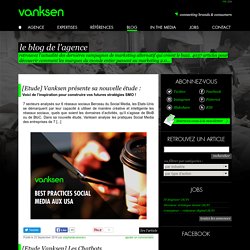 Si Twitter est une grande source d'information, c'est également un lieu important de création de contenu. Certains préfèrent s'exprimer, s'instruire, ou favoriser l'interaction et le débat. Les informations circulent vite, les bad buzz aussi.
:::: URBAN ACT ::::