Buy
Coco Doormat - Just Wipe It
Clean Machine Wipe Your Paws 18-Inch by 30-Inch Doormat, Cinder: Patio, Lawn & Garden
Vans® Chukka Boot Canvas Black/Black
FUNNY DOORMAT - WIPE FEET,THAT'S AN ORDER - 100% OLEFIN DOORMATS Coco Coir Mats N' More
Stanley Flask - Black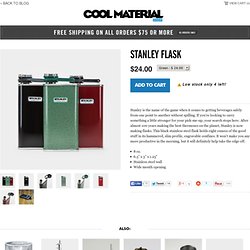 Stanley is the name of the game when it comes to getting beverages safely from one point to another without spilling. If you're looking to carry something a little stronger for your pick-me-up, your search stops here. After almost 100 years making the best thermoses on the planet, Stanley is now making flasks. This black stainless steel flask holds eight ounces of the good stuff in its hammered, slim profile, engravable confines.
Creep Street Men's Death Dealers T-Shirt - Red
Best Cordless Drills 2011 | Flowing Home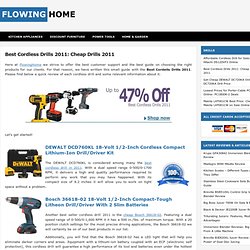 Best Cordless Drills 2011: Cheap Drills 2011 Here at FlowingHome we strive to offer the best customer support and the best guide on choosing the right products for our clients. For that reason, we have written this small guide with the Best Cordells Drills 2011 . Please find below a quick review of each cordless drill and some relevant information about it.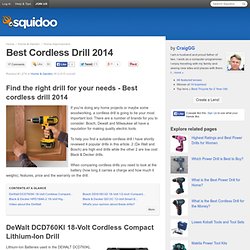 Best Cordless Drill 2011
If you're doing any home projects or maybe some woodworking, a cordless drill is going to be your most important tool. There are a number of brands for you to consider: Bosch, Dewalt and Milwaukee all have a reputation for making quality electric tools. To help you find a suitable cordless drill I have shortly reviewed 4 popular drills in this article. 2 (De Walt and Bosch) are high end drills while the other 2 are low cost Black & Decker drills. When comparing cordless drills you need to look at the battery (how long it carries a charge and how much it weighs), features, price and the warranty on the drill. Lithium-Ion Batteries used in the DEWALT DCD760KL give longer lasting and reliable performance whilst reducing the weight associated of battery packs.
Plug Hub Desk Power Cable Organizer
Adventure Medical Kits - Origin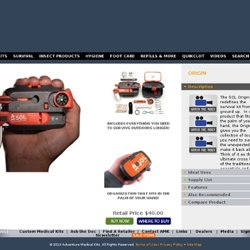 The SOL Origin™ redefines the survival kit from the ground up. In one product that fits in the palm of your hand, the Origin™ gives you the collection of tools you need to survive the unexpected and make it back alive. Think of it as the ultimate cross breed of the traditional ten essentials and a survival kit, all wrapped up in one lightweight, easy to carry, indestructible package. The heart of the Origin™ is its ABS-plastic waterproof case, which contains an array of key survival tools, including TinderQuik fiestarting tinder, 150lb-test braided nylon cord, mil-spec stainless steel wire, and an emergency sewing and fishing kit. And, for those unfamiliar with wilderness survival, backcountry expert Buck Tilton's survival instructions contain over 60 survival techniques and strategies.
Joseph Joseph Rocker, Garlic Crusher: Kitchen & Dining
ThumbSaver TS001 Magnetic Nail Setter Bonus Pack Includes The Standard and Mini Size: Home Improvement
Iomega Mac 2 TB USB 2.0 Companion External Hard Drive 35130 (Black/Silver): Electronics
Gerber 31-000751 Bear Grylls Survival Series Ultimate Knife, Serrated Edge: Home Improvement
Calling your to-do list by another name isn't going to change the way you feel about it. Whether it's your "Honey Do List" for stuff around the house or a "Productivity Schedule" for the office, in your mind everything gets filed under the same list: Shit I Gotta Fucking Get Done. Just be honest and call it what it is. Uncensored and unapologetic, this handy little notebook helps you keep track of the shit you gotta fucking get done. Available as : 2-Pack pocket notebooks. 3.5 x 5". 32 lined pages. 5 x7 Wire-bound notebook. 100 lined pages.
Shit I Gotta Fucking Get Done Notebooks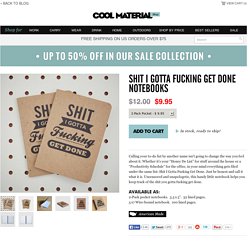 MONOCHROMATIC DECK OF CARDS
Sony Ericsson HBH-IS800 Wireless Stereo Headphone (Black): Cell Phones & Accessories
Jabra CLIPPER Bluetooth Stereo Headset: Electronics
OrigAudio Rock-It 2.0 Portable Vibration Speaker (BLACK): Electronics
VitaMan Matt Mud at Barneys New York
Men's Grooming - Shaving - Skincare - Facial Products - DetailsforMen
Home