Food
CopyKat Recipes – You have loved that recipe in the restaurant, now make that recipe at home. - CopyKat Recipes | Restaurant Recipes. Culinary Arts College » 100 Famous Restaurant Recipes You Can Replicate at Home. Eating out is becoming a more and more popular phenomenon.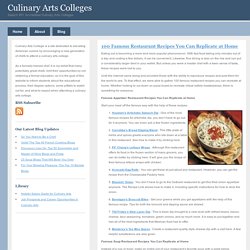 With fast food taking only minutes out of a day and costing a few dollars, it can be convenient. Likewise, fine dining is also on the rise and can put a considerably larger dent in your wallet. But unless you were a master chef with a keen sense of taste, these recipes were lost to you. Parmesan Spread — Our Life In The Kitchen. This stuff is addictive when you slather it on crusty slices of Italian bread.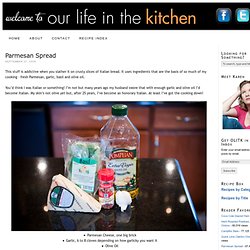 It uses ingredients that are the basis of so much of my cooking – fresh Parmesan, garlic, basil and olive oil. You'd think I was Italian or something! I'm not but many years ago my husband swore that with enough garlic and olive oil I'd become Italian. My skin's not olive yet but, after 25 years, I've become an honorary Italian. Over 100 Quick and Easy Recipes. We Have Preparation and Cooking Times of 30 Minutes or Less The majority of recipes we offer can be both prepared and cooked in 30 minutes or less, from start to finish.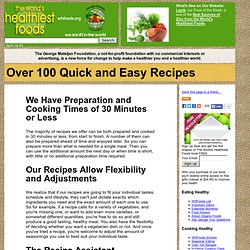 A number of them can also be prepared ahead of time and enjoyed later. So you can prepare more than what is needed for a single meal. Then you can use the additional amount the next day or when time is short, with little or no additional preparation time required. Our Recipes Allow Flexibility and Adjustments. Most favorited all-time. Fun Saving Money: State Fair Funnel Cake Recipe. Pizza Monkey Bread Recipe. Ok are you ready for Pizza Monkey Bread.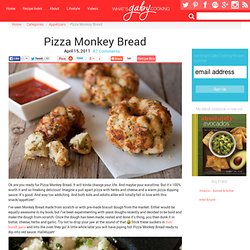 It will kinda change your life. And maybe your waistline. But it's 100% worth it and so freaking delicious! Imagine a pull apart pizza with herbs and cheese and a warm pizza dipping sauce. Pizza Braid. 100 Delicious, Dirt-Cheap Recipes for the Starving Student. Most students don't have a lot of cash to spend on food, but that doesn't mean you have to go hungry.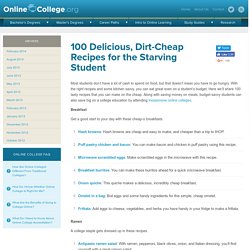 With the right recipes and some kitchen savvy, you can eat great even on a student's budget. Here we'll share 100 tasty recipes that you can make on the cheap. Along with saving money on meals, budget-savvy students can also save big on a college education by attending inexpensive online colleges. Breakfast Get a good start to your day with these cheap-o breakfasts. Nutmegnanny.
---