Social software dev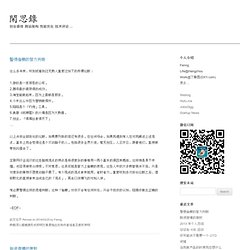 DBA Notes - 创业感悟 网站架构 性能优化 技术评论
这篇文章算是今年年末的一个技术总结。谈谈技术圈一度的热门话题「去 IOE」这件事。 何谓 IOE ? 所谓 IOE 是个简称。是指以 IBM 、Oracle、EMC 为代表的小型机、集中式数据库和高端存储的技术架构。其中 I 指 IBM p 系列小型机,操作系统是 AIX,IBM 专有的 Unix 系统;O 指 Oracle 数据库(RDBMS);E 指 EMC 中高端 SAN 存储,曾经一度是 IT 企业很喜欢采用的技术架构。
Extension to the TreeGrid component to control it from client side JavaScript. Can be purchased with any license and component. You will get TreeGrid version with all functions and events visible. By Extended JavaScript API you can control nearly all functions of the TreeGrid from JavaScript code. You can find out, what user is doing, what selects, where is the focus, what was moved, added, deleted, changed, ....
EJS TreeGrid Prices
Official Web Site: Webbots, Spiders, and Screen Scrapers, by Michael Schrenk
Cappuccino 0.9.7 After nearly a year's worth of work we are truly excited to introduce Cappuccino 0.9.7, a major update to the Cappuccino framework featuring a massive number of new features. Since Cappuccino is such a wide framework, ranging from a low foundations such as our Objective-J compiler, all the way up to the full featured, fully themable UI kit AppKit, it's incredibly hard to summarise all the changes.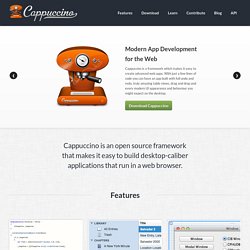 注册 - 工学坊
FlexPaper - Download FlexPaper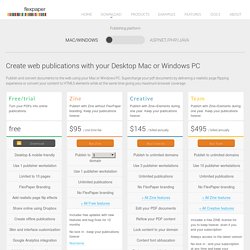 Download FlexPaper FlexPaper can be used as a library in your application or as part of a web page as a pre-compiled application. Please configure & download the appropriate version for your desired use of the viewer below. Source code for our GPL version is also available for download at Google Code.
Vuzit AJAX and HTML5 Document Viewer
渠道网-开店_找货源_找商机_做代理(连锁加盟招商项目库)
fuxi - FuXi 1.0: A Python-based, bi-directional logical reasoning system for the semantic web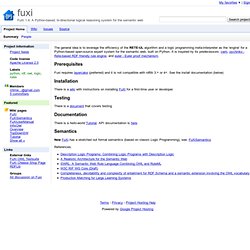 The general idea is to leverage the efficiency of the RETE-UL algorithm and a logic programming meta-interpreter as the 'engine' for a Python-based open-source expert system for the semantic web, built on Python. It is inspired by its predecessors: cwm, pychinko - Rete-based RDF friendly rule engine, and euler - Euler proof mechanism. Prerequisites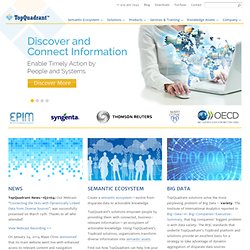 Create a semantic ecosystem—evolve from disparate data to actionable knowledge. TopQuadrant's solutions empower people by providing them with connected, business-relevant information—an ecosystem of actionable knowledge. Using TopQuadrant's TopBraid solutions, organizations transform diverse information into semantic assets. Find out how TopQuadrant can help link your information assets to create a semantic ecosystem where meaningful interactions between people, applications and data occur consistently with a speed, accuracy and intelligence previously not possible.
TopQuadrant
Web Development and Marketing Solutions ~ nonlinear creations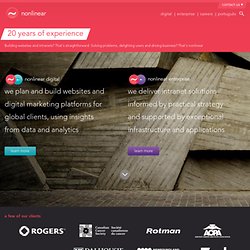 A Marketer's Guide to the Sitecore DMS The Sitecore DMS introduces some incredible features for marketers but the platform can seem overwhelming thanks to the wide variety of available tools. Understanding what each feature does and how they can best serve your individual needs is critical. Read More 7 Steps for Driving Success with Customer Experience Management
WhosOff allows you to reduce the overhead time and money spent on paper chasing leave requests around the office by making important information available to the required staff in your company. Solving the problem of staff leave, efficiently & in your way From 4 to 1,004 staff, size is not a problem
Online Staff Leave Planner | Staff Holiday | Paternity | Sick | Annual Leave fontpro.com Font Pro - is a free fonts database with awesome typeface testing tool. It provides more than 20,000 free fonts and web fonts. Font Pro has made the process of searching fonts, previewing fonts, collecting fonts, to discovering new font combinations super easy and awesome. This tool can save hours of design time every week. You can start a new project with a blank canvas, and get some pretty detail options in minutes.