Téléconnectée
Etude sur l'usage de la TV connectée | WS Conseil
Une étude de plus de 4000 consommateurs aux États-Unis, au Royaume-Uni, en France et en Allemagne concernant attitudes à l'égard des téléviseurs connectés, des smartphones, des tablettes et des livres électroniques ou eBooks a montré que les téléspectateurs britanniques étaient les moins susceptibles de connecter leurs équipements à l'Internet. Dans son enquête auprès des consommateurs, la recherche indique que 71%, les téléspectateurs français sont les plus susceptibles de connecter les téléviseurs intelligents à l'Internet. Cependant, les 56% enregistrés au Royaume-Uni est le plus faible des quatre pays. Il est prévu que le chiffre augmentera à mesure que des TV compatibles Wi-Fi seront mises à disposition. A l'inverse on pourrait faire valoir que le pourcentage diminue lorsque les 'early adopters' sont sortis de l'équation.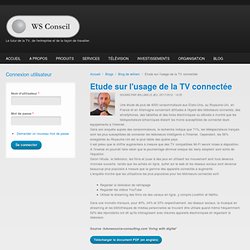 Logitech's Revue set-top box for Google TV was a 'big mistake', according to Guerrino De Luca, chairman and acting chief executive of Logitech. During an analysts and investors meeting in New York, he said the company has pulled the plug on Google TV set-top boxes, saying consumers just aren't ready for the device which merges television and the internet. "Google TV or the child of Google TV or the grandchild of Google TV will happen.
Losses force Logitech to drop Google TV | Broadband TV News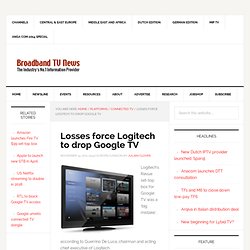 Yahoo! Connected TV: The best of the Internet on your TV
Téléviseur ou ordinateur -Propos de Pierre Bélanger
Americans are becoming more and more comfortable with alternative ways of viewing long-form video, and online viewing of full TV episodes is on the rise and accounting for an ever-greater share of online video viewing.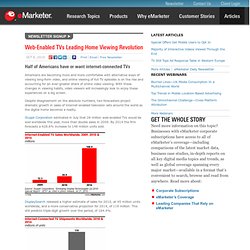 Web-Enabled TVs Leading Home Viewing Revolution
Jeremy Toeman has worked in the field of convergence between computers, the Internet and TV for more than 10 years. He is a founding partner of Stage Two, a consumer technology product experience firm in San Francisco, and can be found blogging at livedigitally.com. Forget Google TV scrapping CES, the biggest challenge smart televisions face in 2011 is overcoming customers' FUD (fear, uncertainty and doubt). Up until the early 2000s, buying a new TV was easy. The bigger the screen, the better the television. Sure, some televisions had more bells and better whistles, but in the era of standard definition and cathode ray tubes, bigger was better.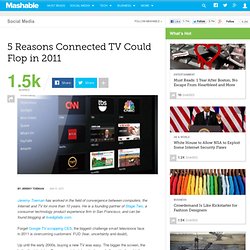 5 Reasons Connected TV Could Flop in 2011
How connected hom can deliver triple play 2.0 connectedtv-1 for web.pdf (Objet application/pdf)
Connected TV
Connected TV
The proliferation of connected televisions will put Pay TV operators under pressure to provide a 'TV Everywhere' type service, where as much as possible of their linear and on-demand content is available online. And it could encourage the roll-out of multi-room DVR as well. In both cases the key is to make sure paid operator services are available on as many devices around the home as possible so people are less tempted by over-the-top alternatives.
Videonet - news, blogs and analysis for the pay-tv industry - News and Analysis