Blue Soda Blog Pitches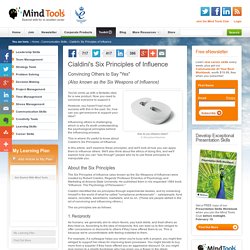 Convincing Others to Say "Yes" (Also known as the Six Weapons of Influence) How do you influence others?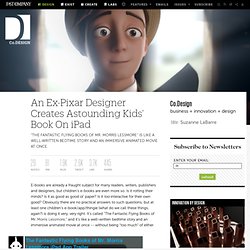 E-books are already a fraught subject for many readers, writers, publishers and designers, but children's e-books are even more so.
Who's Starting America's New Businesses? And Why?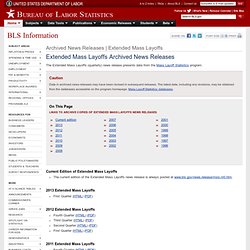 Extended Mass Layoffs Archived News Releases
The Extended Mass Layoffs (quarterly) news release presents data from the Mass Layoff Statistics program.
Table 1.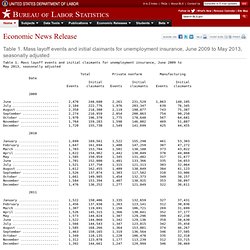 Table 1. Mass layoff events and initial claimants for unemployment insurance, December 2008 to November 2012, seasonally adjusted
There are many social factors routed in psychology that make people want to part with their money, but how can you leverage them to make your landing pages convert?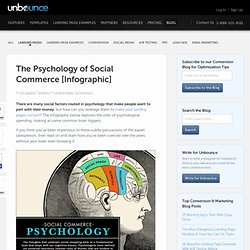 The Psychology of Social Commerce [Infographic
Update (12/21/12):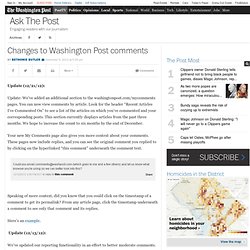 Changes to Washington Post comments
(40) Alan J. Salmoni
(40) Facebook Growth and Traction: What are some decisions taken by the "Growth team" at Facebook that helped Facebook reach 500 million users
What Startups Need to Know About Marketing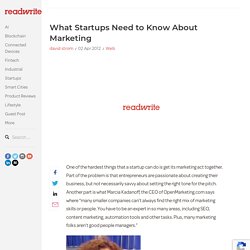 One of the hardest things that a startup can do is get its marketing act together. Part of the problem is that entrepreneurs are passionate about creating their business, but not necessarily savvy about setting the right tone for the pitch.
(40) Startups: What does it feel like to be the CEO of a start-up
Identifying Influential and Susceptible Members of Social Networks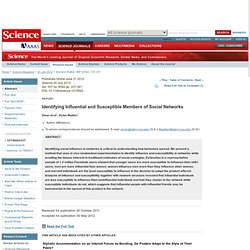 Identifying social influence in networks is critical to understanding how behaviors spread. We present a method that uses in vivo randomized experimentation to identify influence and susceptibility in networks while avoiding the biases inherent in traditional estimates of social contagion. Estimation in a representative sample of 1.3 million Facebook users showed that younger users are more susceptible to influence than older users, men are more influential than women, women influence men more than they influence other women, and married individuals are the least susceptible to influence in the decision to adopt the product offered.
The Rise of Digital Influence
Jure Klepic: The Elegance of Tellagence in Social Media Marketing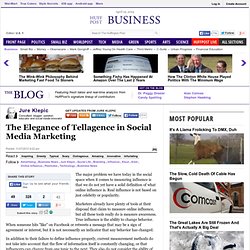 The major problem we have today in the social space when it comes to measuring influence is that we do not yet have a solid definition of what online influence is.
Assault Weapons - Issues - United States Senator Dianne Feinstein
The above video is one of my favorite presentations I've given in 2009, an opening keynote at the last San Francisco WordCamp, titled "How to Blog without Killing Yourself". More than 700 people from 32 countries were in attendance, which made for a wonderful experience. The original title was "Scalable Blogging Behaviors: How to Grow from 1 to 1,000,000 Readers" and the content did not change.
How to Build a High-Traffic Blog Without Killing Yourself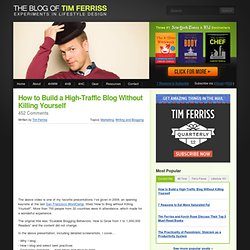 Social media experts give a thumbs down to those that weigh students' Klout scores too highly in the classroom or an interview.
Professor Sparks Controversy for Klout-Based Grading
Community Influencers Step by Step
Michael Wu, Ph.D. is Lithium's Principal Scientist of Analytics, digging into the complex dynamics of social interaction and online communities. He's a regular blogger on the Lithosphere and previously wrote in the Analytic Science blog. You can follow him on Twitter at mich8elwu. Suppose you need to find the influencers for your brand in a community, how would you go about doing this?
Why Brands STILL don't Understand Digital Influenc
The topic on influence and influencers is very complex and continues to baffle the industry. In an attempt to clarify the intricacy of this subject, I presented the foundation and defined what influence really means last time. I also showed how the simplistic definition is insufficient. Moreover, we've put this definition to use and explained why the follower count metric shouldn't contribute to someone's influence. However, there are still much misunderstanding about influence and how it works.
Sinan Aral New York University (NYU) - Leonard N. Stern School of Business; Massachusetts Institute of Technology (MIT) - Sloan School of Management; New York University (NYU) - Department of Information, Operations, and Management Sciences
Identifying Social Influence in Networks Using Randomized Experiments by Sinan Aral, Dylan Walker
In a new paper, published today in Science, Sinan Aral, NYU Stern Assistant Professor of Information, Operations and Management Sciences, and his co-author Dylan Walker, a research scientist at Stern, present a new method to measure influence and susceptibility in social networks. Today, finding influentials is all the rage.
Stern | Press Release | Sinan Aral | New Method to Measure Influence & Susceptibility in Social Networks
The Rising Science Of Social Influence — How Predictable Is Your Online Behaviour?
How To Seed A Viral Marketing Campaign
Stern | Research | Sinan Aral | New Method to Measure Influence & Susceptibility in Social Networks
The Missing Link of Influence: The Potential to In
marketing.conference-services.net/resources/327/2958/pdf/AM2012_0023_paper.pdf
"Identifying Influential and Susceptible Members of Social Networks" – Science Mag « Brain for Business
Are all Influencers Created Equal?
Bailout Cost Exceeds All American Wars
Finding the Influencers: Influence Analytics 2
My Chapter on Influencers
What is Influence, Really? – No Carrot, No Stick,
The Fast Influencer Myth
Why Online Influencer Outreach is Overrated and How to Fix It
14 free tools to measure your social influence
Social Networks Influence 74% of Consumers' Buying Decisions
uploads/2/8/7/4/2874839/why_do_people_share_online.pdf
Powerful Content Marketing Lessons From 2 Recent Viral Blockbusters
BuzzFeed's Jonah Peretti Is The Stephen Hawking Of Radical Skateboarding Birds
Could It Be A Big World After All?
CONSUMER BAROMETER - insights in online & offline purchase behavior
A Psychological Viewpoint On Social Networks
Why Do You Tweet?
www.cdmc.ucla.edu/KS_Media_biblio_files/kaveri_reich_waechter_espinoza_2008_1.pdf
What Can Psychology Tell Us About Why People Go To Facebook?
Why Is Facebook So Successful? Psychophysiological Measures Describe a Core Flow State While Using Facebook - Tags: PSYCHOPHYSIOLOGY -- Research FACEBOOK (Web resource)
Case Study: U.S. Chamber of Commerce
Understanding the Psychology of Twitter
BuzzFeed, the Ad Model for the Facebook Era?
How Coca-Cola Created Its "Happiness Machine" [INTERVIEW]
Not on Facebook? Employers, Psychiatrists May Think You're a Psychopath
Nach dem Attentat von Denver: Kein Facebook-Profil, kein Job-Angebot - Welt
As Facebook Aims at Millions of Users, Some Are Content to Sit Out
Beware, Tech Abandoners. People Without Facebook Accounts Are 'Suspicious.'
Is not joining Facebook a sign you're a psychopath? Some employers and psychologists say it's 'suspicious'