Business Advice
46 Ways To Start A Business With No Money. Most people who want to start their own business don't have a ton of money laying around and it's probably one the most common questions I get emailed about: How can I get started without a lot of cash?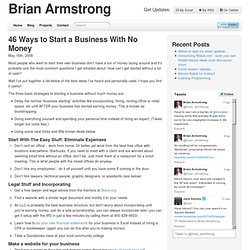 Well I've put together a list below of the best ideas I've heard and personally used. I hope you find it useful! How To Make Money With A Blog. 45 Kick-Ass Resources for Online Entrepreneurs | Productive Entrepreneur - StumbleUpon. Few people talk about this great productivity tip… You will reach your goals faster and easier if you're willing to learn from others.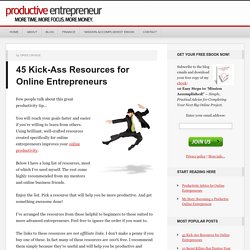 Using brilliant, well-crafted resources created specifically for online entrepreneurs improves your online productivity. Below I have a long list of resources, most of which I've used myself. Start-up Advice. I usually tell people that everything I learned about being an entrepreneur I learned by F'ing up at my first company.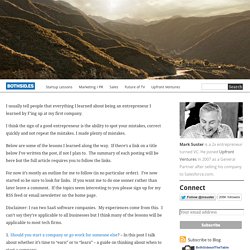 I think the sign of a good entrepreneur is the ability to spot your mistakes, correct quickly and not repeat the mistakes. I made plenty of mistakes. Below are some of the lessons I learned along the way.
---