Pharma-chemical
Despite New Health Law, Some See Sharp Rise in Premiums. Corn insecticide linked to great die-off of beneficial honeybees. New research has linked springtime die-offs of honeybees critical for pollinating food crops — part of the mysterious malady called colony collapse disorder — with technology for planting corn coated with insecticides.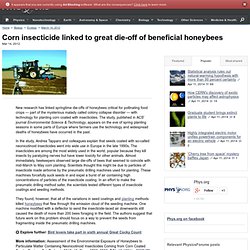 The study, published in ACS' journal Environmental Science & Technology, appears on the eve of spring planting seasons in some parts of Europe where farmers use the technology and widespread deaths of honeybees have occurred in the past. In the study, Andrea Tapparo and colleagues explain that seeds coated with so-called neonicotinoid insecticides went into wide use in Europe in the late 1990s. Monsanto Shifts ALL Liability to Farmers. Farmers like genetically modified (GM) crops because they can plant them, spray them with herbicide and then there is very little maintenance until harvest.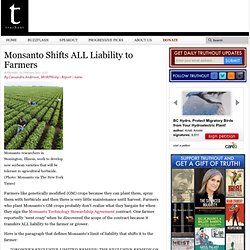 Farmers who plant Monsanto's GM crops probably don't realize what they bargain for when they sign the Monsanto Technology Stewardship Agreement contract. One farmer reportedly 'went crazy' when he discovered the scope of the contract because it transfers ALL liability to the farmer or grower. Here is the paragraph that defines Monsanto's limit of liability that shifts it to the farmer: G. FDA Urged to Prohibit Carcinogenic "Caramel Coloring" ~ Newsroom ~ News from CSPI.
CSPI Says Artificial Caramel Coloring is Quite Different from Real Caramel February 16, 2011 WASHINGTON—The "caramel coloring" used in Coca-Cola, Pepsi, and other foods is contaminated with two cancer-causing chemicals and should be banned, according to a regulatory petition filed today by the Center for Science in the Public Interest.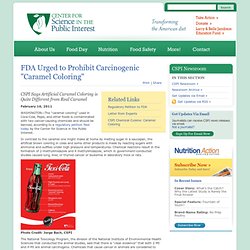 I worked for Monsanto and will be releasing documents detailing how Monsanto planned to kill off bee colonies in order to introduce a "new and improved" species of bee that will only pollinate Monsanto crops : politics. Supreme Court: Data Mining Of Prescription Drug Records Is Free Speech. The Drug Market Scam: Why You Pay Way Too Much for Bad Medicine (And Bernie Sanders' Solution) | Drugs. June 2, 2011 | Like this article?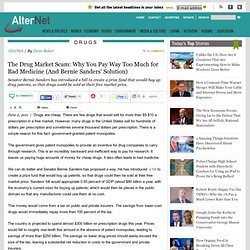 Join our email list: Stay up to date with the latest headlines via email. FDA and Makena: Agency opens up competition for premature pregnancy drug. Reporting from Washington — The Food and Drug Administration took the unusual step Wednesday of inviting specialty pharmacies to make an end run around a company that obtained exclusive rights to a pregnancy drug and promptly raised the price from $20 a dose to $1,500.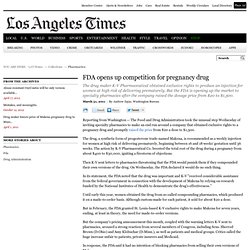 The drug, a synthetic form of progesterone trade-named Makena, is recommended as a weekly injection for women at high risk of delivering prematurely, beginning between 16 and 18 weeks' gestation until 36 weeks. The action by K-V Pharmaceutical Co. boosted the total cost of the drug during a pregnancy from about $400 to $30,000, igniting a firestorm of objections. Antibiotics pipeline 'drying up,' WHO warns : epiNewswire. 2 Paths of Bayer Drug in 80's: Riskier One Steered Overseas. A division of the pharmaceutical company Bayer sold millions of dollars of blood-clotting medicine for hemophiliacs -- medicine that carried a high risk of transmitting AIDS -- to Asia and Latin America in the mid-1980's while selling a new, safer product in the West, according to documents obtained by The New York Times.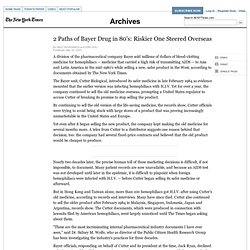 The Bayer unit, Cutter Biological, introduced its safer medicine in late February 1984 as evidence mounted that the earlier version was infecting hemophiliacs with H.I.V. Yet for over a year, the company continued to sell the old medicine overseas, prompting a United States regulator to accuse Cutter of breaking its promise to stop selling the product.