Judiciary
DOJ Mysteriously Quits Monsanto Antitrust Investigation. Just a handful of companies control the US seed market.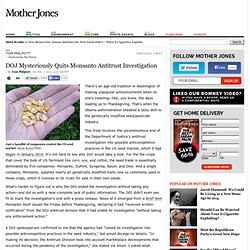 Stevie Rocco/Flickr There's an age-old tradition in Washington of making unpopular announcements when no one's listening—like, you know, the days leading up to Thanksgiving. Free Banking » The Fed Wants Secrecy and the US Court of Appeals for the DC Circuit Gives It To Them. "I personally have always been a big believer in providing as much information as you can to help the public understand what you're doing, to help the markets understand what you're doing, and to be accountable to the public for what you're doing."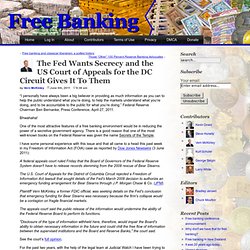 Federal Reserve Chairman Ben Bernanke, Press Conference, April 27, 2011. Bhwahaha! One of the most attractive features of a free banking environment would be in reducing the power of a secretive government agency. Clarence Thomas Fails to Disclose Citizens United In-Kind Contributions. Will Clarence Thomas Recuse Himself on Health Care Reform? James Berglie/Zuma Following a time-honored Washington tradition of dumping required but embarrassing information on a Friday night before a major holiday, Supreme Court Justice Clarence Thomas finally released the details of his wife's income from her year or so working for the tea party group Liberty Central, which fought President Obama's health care reform law.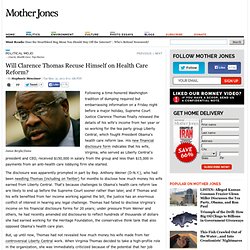 His new financial disclosure form indicates that his wife, Virginia, who served as Liberty Central's president and CEO, received $150,000 in salary from the group and less than $15,000 in payments from an anti-health care lobbying firm she started. The disclosure was apparently prompted in part by Rep. Anthony Weiner (D-N.Y.), who had been needling Thomas (including on Twitter) for months to disclose how much money his wife earned from Liberty Central. Justices Scalia And Thomas's Attendance At Koch Event Sparks Judicial Ethics Debate. Reports that two Supreme Court Justices have attended seminars sponsored by the energy giant and conservative bankroller Koch Industries has sparked a mild debate over judicial ethics.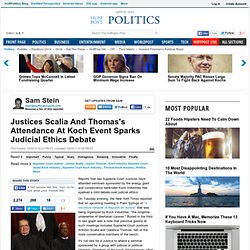 On Tuesday evening, the New York Times reported that an upcoming meeting in Palm Springs of "a secretive network of Republican donors" that was being organized by Koch Industries, "the longtime underwriter of libertarian causes. " Buried in the third to last graph was a note that previous guests at such meetings included Supreme Court Justices Antonin Scalia and Clarence Thomas, two of the more conservative members of the bench. It's not rare for a Justice to attend a seminar sponsored by a group with judicial or political interests. Members of the court, for instances, often speak at academic institutions or think tanks.
---