Foreign
Mexican crook: Gangsters arrange fights to death for entertainment | Top Story | Chron.com. The elderly are killed.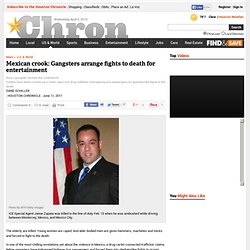 Young women are raped. And able-bodied men are given hammers, machetes and sticks and forced to fight to the death. In one of the most chilling revelations yet about the violence in Mexico, a drug cartel-connected trafficker claims fellow gangsters have kidnapped highway bus passengers and forced them into gladiatorlike fights to groom fresh assassins. In an in-person interview arranged by intermediaries on the condition that neither his name nor the location of his Texas visit be published, the trafficker also admitted to helping push cocaine worth $5 million to $10 million a month into the United States.
History of U.S. Intervention in Iran - 1953 Until Present. WikiLeaks Archive - Cables Show D.E.A.'s Global Reach. Sia Kambou/AFP-Getty; Jose Mendez/EPA; Ramin Talaie/EPA; Mark Wilson/Getty Images Leaked cables reveal the Drug Enforcement Administration's global reach, noting dealings with Lansana Kouyaté of Guinea, left, Ricardo Martinelli of Panama, center left, and Ernest Bai Koroma of Sierra Leone.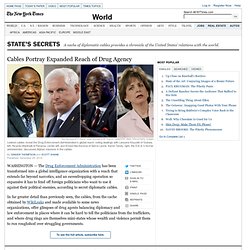 Karen Tandy, right, the D.E.A.'s former administrator, discussed Afghan missions in the cables. In far greater detail than previously seen, the cables, from the cache obtained by and made available to some news organizations, offer glimpses of drug agents balancing diplomacy and law enforcement in places where it can be hard to tell the politicians from the traffickers, and where drug rings are themselves mini-states whose wealth and violence permit them to run roughshod over struggling governments. Diplomats recorded unforgettable vignettes from the largely unseen war on drugs: The Reason Obama Was SHOCKED Mubarak Didn't Resign: CIA Was Basing Intelligence On American Media Reports.
Wikileaks. You are more likely to be killed by a police officer than by a terrorist.
---