Drugs
Watch A Metaphor So Obvious That You'd Have To Be A Politician Not To Get It. 1 in 10 Deaths Among Adults Tied to Alcohol: CDC. Study also found those who died from drinking-related causes lost roughly 30 years of life Why do I need to register or sign in for WebMD to save?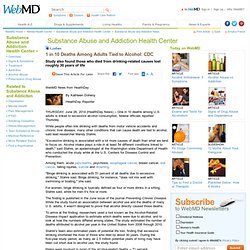 We will provide you with a dropdown of all your saved articles when you are registered and signed in. WebMD News from HealthDay By Kathleen Doheny HealthDay Reporter. Fugitive Susan LeFevre. New drug could treat Alzheimer's, multiple sclerosis and brain injury. A new class of drug developed at Northwestern University Feinberg School of Medicine shows early promise of being a one-size-fits-all therapy for Alzheimer's disease, Parkinson's disease, multiple sclerosis and traumatic brain injury by reducing inflammation in the brain.
Northwestern has recently been issued patents to cover this new drug class and has licensed the commercial development to a biotech company that has recently completed the first human Phase 1 clinical trial for the drug. The drugs in this class target a particular type of brain inflammation, which is a common denominator in these neurological diseases and in traumatic brain injury and stroke. Opium Made Easy - Michael Pollan. We may not hear as much now about the war on drugs as we did in the days of Nancy Reagan, William Bennett, and "Just Say No.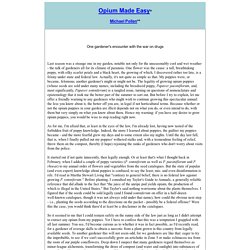 " But in fact the drug war continues unabated; if anything, the Clinton Administration is waging it even more intensely than its predecessors, having spent a record $15 billion on drug enforcement last year and added federal death penalties for so-called drug kingpins - a category defined to include large-scale growers of marijuana. Every autumn, police helicopters equipped with infrared sensors trace regular flight paths over the farm fields in my comer of New England; just the other day they spotted thirty marijuana plants tucked into a cornfield up the road from me, less than a hundred yards, as the crow flies, from my garden. Cuba Announces Release of the World's First Lung Cancer Vaccine. From the island nation known for the quality of its cigars comes some pretty big news today: Xinhua reports that Cuban medical authorities have released the first therapeutic vaccine for lung cancer.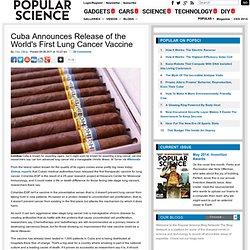 CimaVax-EGF is the result of a 25-year research project at Havana's Center for Molecular Immunology, and it could make a life or death difference for those facing late-stage lung cancers, researchers there say. CimaVax-EGF isn't a vaccine in the preventative sense--that is, it doesn't prevent lung cancer from taking hold in new patients. It's based on a protein related to uncontrolled cell proliferation--that is, it doesn't prevent cancer from existing in the first place but attacks the mechanism by which it does harm. As such it can turn aggressive later-stage lung cancer into a manageable chronic disease by creating antibodies that do battle with the proteins that cause uncontrolled cell proliferation, researchers say.
The Drug Market Scam: Why You Pay Way Too Much for Bad Medicine (And Bernie Sanders' Solution) | Drugs. June 2, 2011 | Like this article?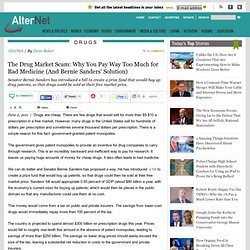 Join our email list: Stay up to date with the latest headlines via email. Drugs are cheap. Alcohol 'more harmful than heroin or crack' | Society. Alcohol is the most dangerous drug in the UK by a considerable margin, beating heroin and crack cocaine into second and third place, according to an authoritative study published today which will reopen calls for the drugs classification system to be scrapped and a concerted campaign launched against drink.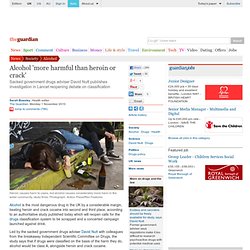 Led by the sacked government drugs adviser David Nutt with colleagues from the breakaway Independent Scientific Committee on Drugs, the study says that if drugs were classified on the basis of the harm they do, alcohol would be class A, alongside heroin and crack cocaine. Today's paper, published by the respected Lancet medical journal, will be seen as a challenge to the government to take on the fraught issue of the relative harms of legal and illegal drugs, which proved politically damaging to Labour.
Alcohol Is Most Harmful Drug, Followed By Heroin And Crack.
Ask Not For Whom the Drug Tolls. DECEMBER 22, 2010 by WENDY MCELROY "Fifty years ago, it made sense to assert that mental illnesses are not diseases, but it makes no sense to say so today.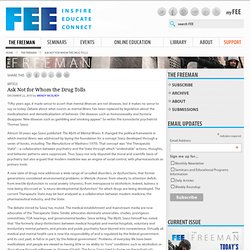 Debate about what counts as mental illness has been replaced by legislation about the medicalization and demedicalization of behavior. Old diseases such as homosexuality and hysteria disappear. New diseases such as gambling and smoking appear." The Disastrous War on Drugs Turns 40: 5 Ways to Stop the Madness | Drugs. February 11, 2011 | Like this article?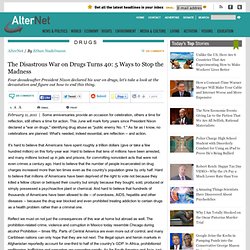 Join our email list: Stay up to date with the latest headlines via email.
---